When it comes to safety on the road, especially when towing a caravan, there should be zero shortcuts taken. In 2016, 80% of all caravan accidents resulted in a total loss, and if you are like us, you love your caravan (not to mention have spent a lot of money on it), so you want to look after it.
The safety of your caravan, however, is nowhere near as important as the safety of you and your family. This is why visibility on the road is paramount. You should always have the ability to see everything around you and your vehicle, and this is where towing mirrors, which are required by law, come in.
Why you need towing mirrors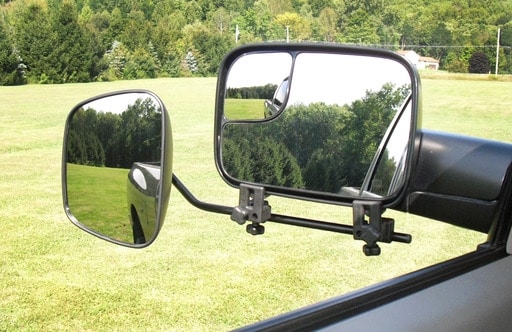 Sources: rvupgradestore.com
The standard mirrors on your car are designed to give visibility for the length of your vehicle but do not account for long objects like a caravan. Towing mirrors will provide that extra viewability and are required by law in Australia if you are towing anything wider than your vehicle.
The various options for towing mirrors
The best towing mirrors for you are based around your setup. You will notice there are many options, often to suit different budgets, but the design should also be taken into account. The following towing mirror options are the most common:
Mirror mounted towing mirrors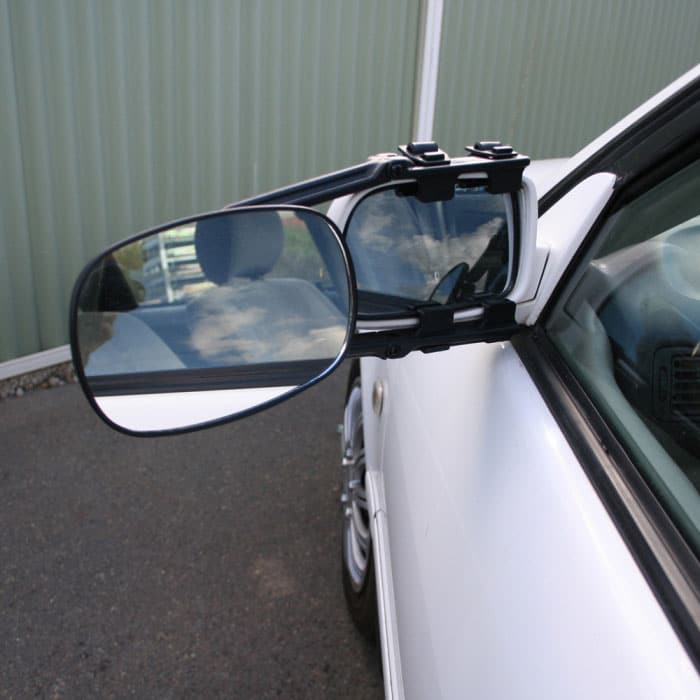 Source: caravansplus.com.au
The most popular and common towing mirrors are the clip-on or strap-on that are portable and simply clamp or strap onto your vehicles existing side mirrors. Once they have been installed, which is a quick and easy process, you can easily adjust them from inside your vehicle.
The most popular model on the market at the moment is the Milenco Grand Aero3 as they are of high quality, feature an aerodynamic design which increases stability in high speeds and are simple to install. These mirrors feature two clamps which attach to the mirror of pretty much any vehicle and can be controlled by a swivel to rotate and provide various angles.
Many mirror mounted towing  models use support arms to provide extra resistance to prevent folding when faced with high winds or oncoming traffic. These arms simply attach to your car door often with suction cups or a magnetic pad.
Door Mounted Towing Mirrors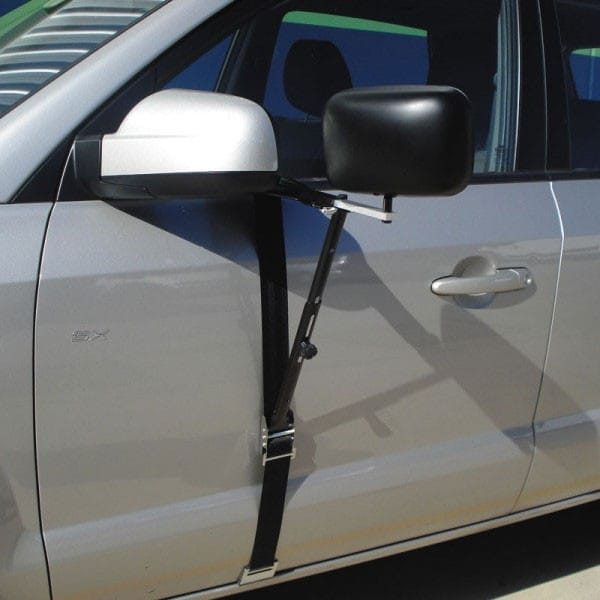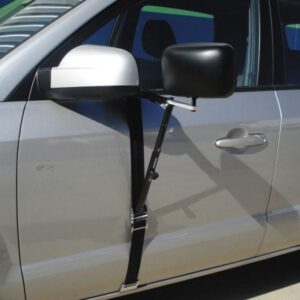 Source: caravansplus.com.au
The main advantage of door mounted towing mirrors is the extra stability they provide over the mirror mounted models. As a result, they are often more expensive and slightly harder to install. Door mounted mirrors are bulky and are better suited to larger vehicles.
Bonnet Mounted Towing Mirrors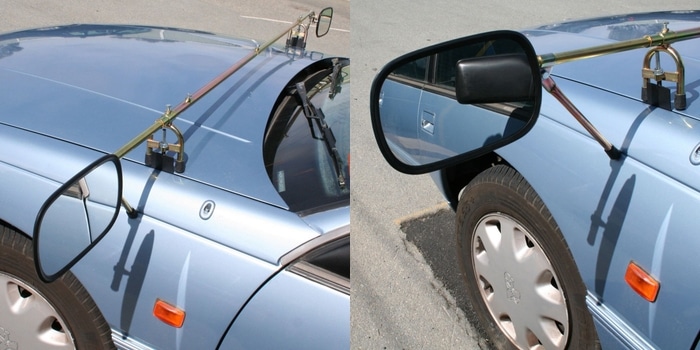 Source: caravansplus.com.au
The most difficult mirrors to install are the bonnet mounted models as they are attached by a drawbar running across the hood of your vehicle. They are also unable to be adjusted from the driver's seat and far less popular than the models mentioned above.
Clearview Mirrors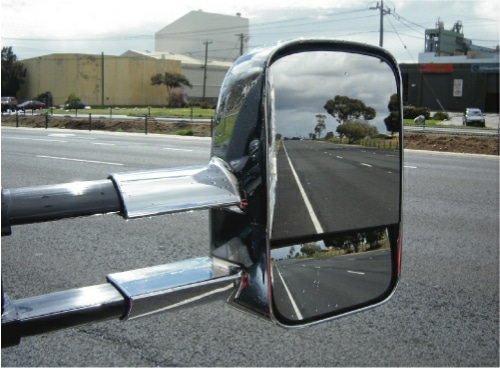 Source: store-clearviewmirrors.com.au
Clearview Towing Mirrors are a permanent installation that replaces your existing mirrors, perfect for those who tow a lot. These models offer a larger dual mirror that is extendable for increased visibility. They can also feature an electronic adjustment controllable from the driver's seat, and are the perfect option for those who tow regularly.
They are, however, at the higher end of the price spectrum, so you may not want to consider this option if you are not going to get a lot of use out of them.
Rear View Camera
Not a mirror, but certainly a way to increase your vision while towing is the Rear View Camera. Attached to the back of your caravan this will give you a clear view of the things behind your caravan. This is, however, an addition, not a replacement for towing mirrors, which you will still require.
So which option should you choose?
As you may be able to discern from the above information, the answer to this question is based on your situation, budget, requirements, and usage. Just keep in mind that the different features will suit different conditions better and the amount of money you spend will determine the level of quality.
If you only tow a couple of times a year, the cheaper clip-on options will likely be fine; if you are towing significantly more than this, the permanent fixture may be better for you.
What the law says
We mentioned earlier that you are required by law to have towing mirrors; however, many people often dispute this. Let's clear it up once and for all by looking at the relevant laws and how they apply.
It is important to note at this point that we won't take into consideration the towing guides that are released by the various state road authorities. The reason why we are ignoring these guides is due to the fact that they are advice only. They are handy for offering towing configurations, but they are not the law.
The primary law that is applicable is the Vehicle Standard Australian Design Rule 18/03 Instrumentation 2006. The Australian Design Rules provide national standards for vehicle safety, and cover issues including noise, engine exhaust emissions, braking, and many other things. The Federal Department of Infrastructure create and manage these laws under the Motor Vehicle Standards Act 1989. The Australian Government uses this act to establish nationally uniform standards for road vehicles whether they are manufactured in Australia or imported as new or second-hand vehicles.
So basically, this legislation has been made and enacted by The Parliament of the Commonwealth of Australia and is the law.
The attachment of a caravan to your vehicle is classed as an addition which could affect your vehicle's compliance deeming it unroadworthy. The Vehicle Standard Australian Design Rule 14/02 – Rear Vision Mirrors 2006 Amendment 1 says:
"The field of vision must be such that the driver can see at least a 4 m wide, flat, horizontal portion of the road, which is bounded by a plane parallel to the median longitudinal vertical plane and passing through the outermost point of the vehicle on the driver's side of the vehicle and extends from 20 m behind the driver's ocular points to the horizon. In addition, the road must be visible to the driver over a width of 1 m, which is bounded by a plane parallel to the median longitudinal vertical plane and passing through the outermost point of the vehicle starting from a point 4 m behind the vertical plane passing through the driver's ocular points."
What this means is that when you add a caravan, you block the vision of a particular area. If the caravan is no wider than your tow vehicle, standard mirrors will likely be fine, but if the caravan is wider (as most are), you will need extension mirrors.
How to test if you are compliant
The best way to tell if your mirrors are sufficient and compliant is to stand directly behind each of the rearmost corners, 20m from your side rear view mirrors. If you have a clear vision of the entirety of each mirror, then you are likely compliant. If the mirrors are partially or completely obscured by the trailer, extension mirrors will be required.
You may remember earlier we recommended a rearview camera, but as we said, this is in addition to the mirrors. The reason for this is that a camera will show what is directly behind the caravan, but won't cover the areas alongside and the rearmost corners. These blind spots are the ones you need to have a vision of to avoid a collision when changing lanes.
So to avoid being pulled over by the Police and fined far more than the cost of some mirrors, and above all to stay safe on the roads, towing mirrors are the go!
Mirrors when you are not towing
If you have installed towing mirrors, it is important also to know the law that applies when you are NOT towing. If you detach your caravan, your mirrors are not compliant as they are too wide and the law states you must remove, or retract, the extension mirrors before driving.
Towing mirror installation
The time it takes to install your towing mirrors, and how complex the process will depend on the brand and type you purchase. Portable towing mirrors will need the least assembly and are therefore easy in a DIY situation. For permanent models, you may want to consider professional installation so as not to damage your vehicle or the mirrors. No matter which type of mirror you opt for though, secure installation is the most important thing. You want to reduce added drag on the car mirror so that it will not detach while you are driving at high speeds which would cause a potential danger for other road users.
Some mirrors come with a hot spot installation option which is an adhesive strip that has a paper film to peel off allowing you to stick the mirrors, while others offer a slide-on option often customised for various car makes and models.
Universal fit and clip-on towing mirrors should not require any tools, and fender mount mirrors simply need the securing of mounts to the fender at the hood line.
It is strongly recommended that you have permanent towing mirror installation performed by a professional as it is far more complex. This process often involves removing the driver and passenger door panels, and if the mirror model features LED lights or heating functions, they will also require rewiring.
Tips for reversing your caravan
Towing mirrors will help when it comes to reversing your caravan, but you will also require a lot of practice and technique, and possibly some teamwork. Consider the following points:
Think about which direction you want the rear of the caravan to go. Have one hand on the bottom of the steering wheel. For the back of the van to swing left move your hand left and vice versa for the right. This is how you establish the correct wheel direction
Reversing slowly and remember that it will drift even if it is on line so you'll need to make corrections as you go
For significant correction, drive forward one car length to straighten up
If someone is helping you and they disappear from your sight – stop
If you are having considerable trouble, ask the park proprietor to put your van onto the site for you
Insurance Repairs
If something is to, unfortunately, go wrong and you need to make an insurance claim Allbrand have experts that can complete your caravan repairs as we regularly deal with many of the major insurance companies. We know what each company requires, and will work with you to complete your claim for caravan repairs in Brisbane.
Let us turn what is often a stressful situation into a fast and straightforward process to get you back on the road as soon as possible.
AllBrand Caravan Services can help
AllBrand Caravan Services is a family owned business full of caravan and motoring experts with a wealth of knowledge and experience who can help find the right solutions, upgrades and repairs for all of your caravan needs. Our staff and equipment are up to speed with the latest in Caravan and Motorhome technology, and we make it our business to keep on the cutting edge, so that our customers know any time they talk to Allbrand, they are getting the best solutions. Plus, we absolutely love caravans!
AllBrand Caravan Services can take care of any query or requirement you may have, so talk to us about your rig and we'll find you the most suitable and best quality towing mirrors available. Our goal is to ensure our customers are happy, but most of all, safe on the road. Letting Allbrand Caravan Services handle your vehicle before you head out on a trip ensures you are safe, secure, and will arrive at your destination without any hassle!
[porto_block label="" name="Bottom"]