Annexes, Awnings or sunscreens?
Caravans are perfect for getaways, with the family or friends, romantic getaways or adventurous getaways. Caravans make it all possible. However, while travelling you may need extra protection from nasty weather. We all know how irritating bugs and insects can be. Often we are in situations where there is not adequate shade, room or protection from nature. Sometimes, we need more than what our caravan offers.
If you have been in this situation you will know there are options out there. You have the choice between sunshades, annexes and awnings. They all have different features but essentially provide the same thing. Your requirements will depend on your circumstances and what you want to achieve. It can be a little overwhelming and confusing so we have taken the guess work out for you.
Sunscreens
As it's name suggests, a sunshade can provide screening from the sun. It can do more than that and the benefits of sunscreens are vast.
Sunscreens are made from breathable material, which means you can be sitting outside, and still feel like you are outdoors. You can still feel the breeze and not feel like you are in your caravan. This is great if the weather is pleasant, but you will also want to consider the wilder weather, such as rain, hail and strong winds. The breathable material will not provide complete sun protection and due to its breathability, you will feel every gust of wind. If you are after slight weather protection, the sunscreen will be perfect for your needs.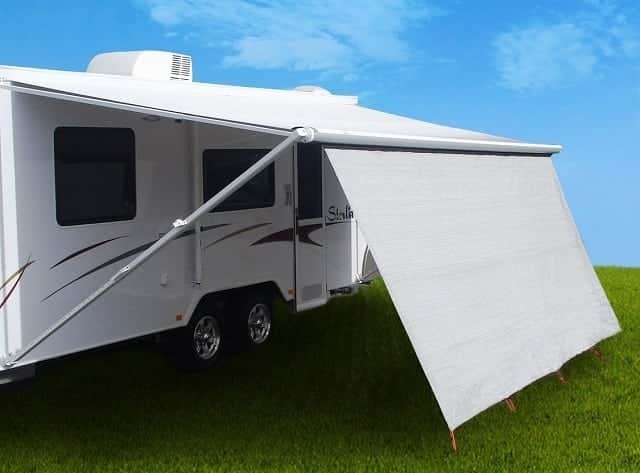 Sunscreens can provide a little more privacy for you when caravanning. They are tent like structures that create an extra area for you to relax or socialise. They are not fixed walls and people can see through them however they do offer a little more privacy, as you are not completely out in the open.
Sunscreens can be quite adaptable. They work best when added to awnings but you can also attach to the front of your van. This will create more sun protection for you and your fellow campers.
Roll out awnings
Rollout awnings are a more elaborate shading system than the sunscreens. They can create a shade area outside your caravan or even make a patio. Awnings are usually custom built, so there is a lot of flexibility with them. They come in various shapes, sizes and materials. This gives people the option of covering a small or large area.
Having an awning designed for your van, can result in extra rooms added to your van. The choice of material can provide more protection from the weather and the awnings extend the existing space to cater to your individual needs.
To use rollout awnings, you can roll or wind them out. Caravan and pop-tops both support rollout awnings. They need to be secured to the ground though, so aren't as simple as rolling out. They are easy to set up and not very time consuming. You don't need to remember to pack your rollout awning as it's permanently attached to your caravan for ease.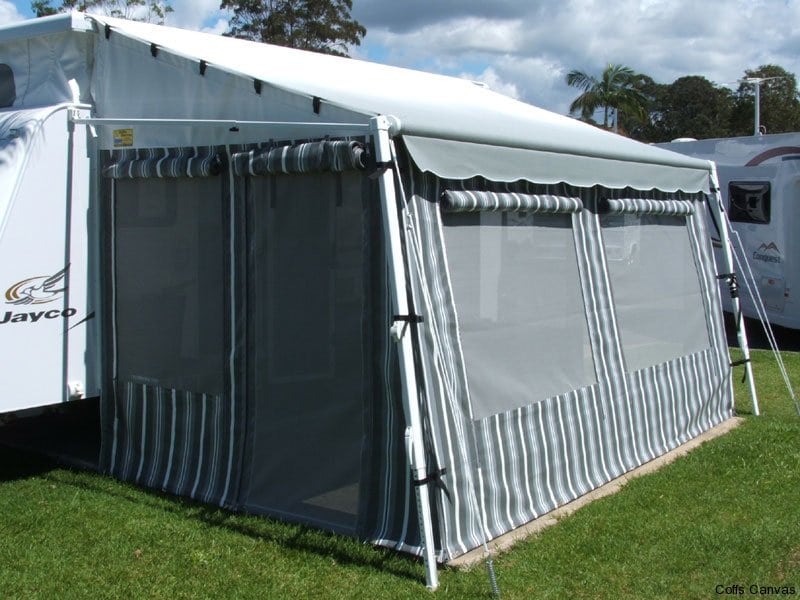 Source: http://coffscanvas.com.au
Caravan Annexes
Caravan annexes are like an extension of your caravan, providing you with more space. They are closed in and provide full protection from the weather. They completely block your view of other campers to ensure complete privacy. They have flat sides and are made from waterproof material. This gives you adequate protection from all kinds of weather. Regardless of what nature throws at you, you are creating a weatherproof campsite.
Annexes are easy to install and affordable, while also providing more protection and privacy. Annexes give you the option of having full walls, fly screens, doors or windows. The options are endless. They attach to awnings to create another level of protection or space.
As you can see, sunscreens, awnings and annexes have the ability to create protection from the weather and create more privacy for you as you travel. What you need will depend entirely on the weather conditions and your individual needs. If you would like any assistance or advice, please call our friendly staff at AllBrand Caravan Services on (07) 3869 2969.
[porto_block name="Bottom"]