When you are planning to tow a heavy rig with your vehicle, it's crucial to make sure the weight is evenly distributed.
What happens if it's not? You will experience rear sag and find your headlights pointing directly up to the sky!
A weight distribution system helps to distribute the weight between the trailer axles and your towing vehicle.
A weight distribution system is often also known as sway bars or leveller riders.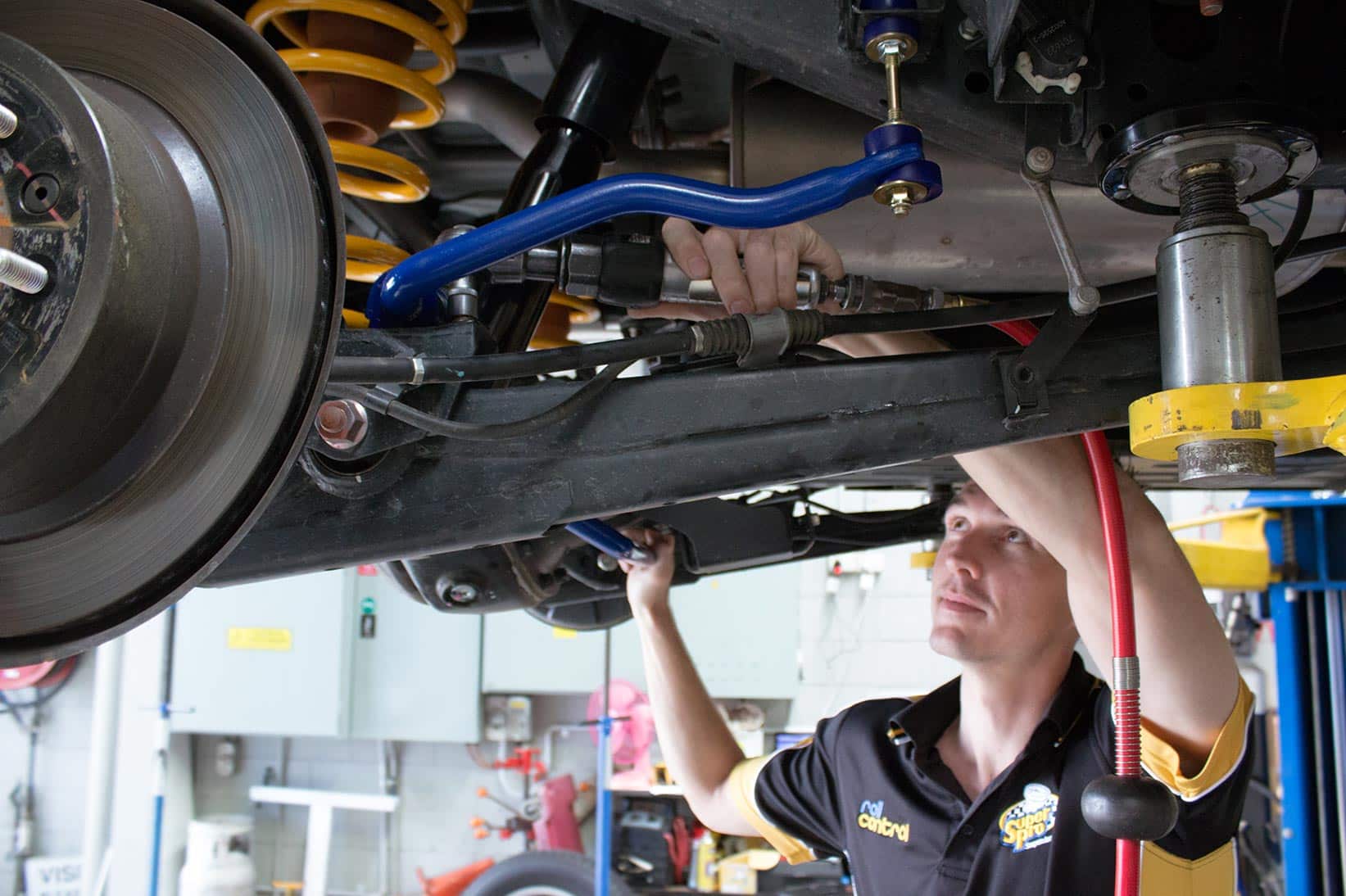 Why do I need Sway Bars?
When you are towing a heavy trailer, sway bars are essential to:
Provide a level and smooth ride

Make sure that you have a level and smooth ride across all the axles. They allow the weight to be evenly transferred between all the axles of the trailer and the towing vehicle. Without them, the weight of your load would be pushing your vehicle's rear down.
Tow the full weight limit of your vehicle and trailer

By spreading the load, you can leverage each side of a rig. It's achieved by linking your towing vehicle to your trailer and sharing the load.
Safety and Control

By fixing the sag of your vehicle, you have better control of stopping and your steering improves.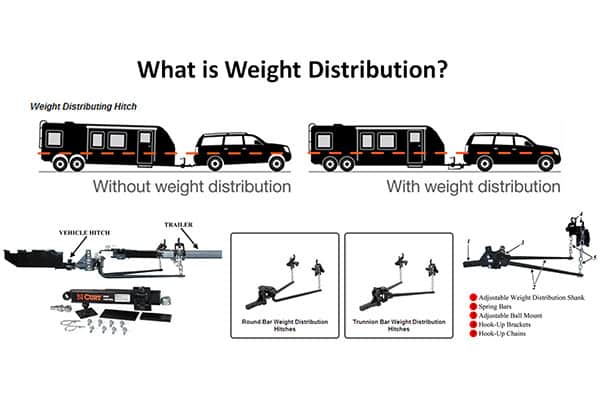 Why is Weight Distribution Important?
Weight distribution is important and recommended for any of the following situations:
The weight of the trailer is greater than half the weight of your vehicle
When hitched to your trailer, your vehicle experiences rear sag and the headlights of your vehicle point upwards
When driving, your trailer experiences swaying from side-to-side. This is caused by poor weight distribution. It is usually because the rear trailer axle has excessive weight positioned behind it.
When your trailer is hitched, it is difficult for you to brake or steer safely.
What happens without proper weight distribution? It's likely that you will experience braking difficulties, loss of steering control, and hitch dragging.
What To Do When Your Headlights Point Up
If after you have connected your trailer, do you notice your headlights are pointing towards the sky? Or does your vehicle rear sag?
You will need to check how much your headlights point upwards. Do your lights reflect off the road in front of you?
If so, a weight distribution hitch may solve this problem. It will make sure the trailer's load is balanced and that your load is safely being towed.
But, there may be another cause. Your vehicle and trailer load may not be balanced correctly. How do you maintain a safe weight load distribution? Check if the items which are the heaviest have been loaded over the axle of the trailer.
Loading Guidelines
It's recommended to follow these guidelines when you load a trailer:
– Load a 60% maximum of the weight in front of the trailer axle
– Never load more than 50% of the weight behind the trailer axle
– The tow ball weight needs to be about 10% of the Gross Vehicle Mass (GVM), if possible
For more in depth trailer tips and tricks, be sure to check out this trailer use instructions guide.
So you've checked your setup with the above-mentioned suggestion. What next? Is your vehicle still experiencing rear sag or is rising? Then it's a sign that you need to install sway bars.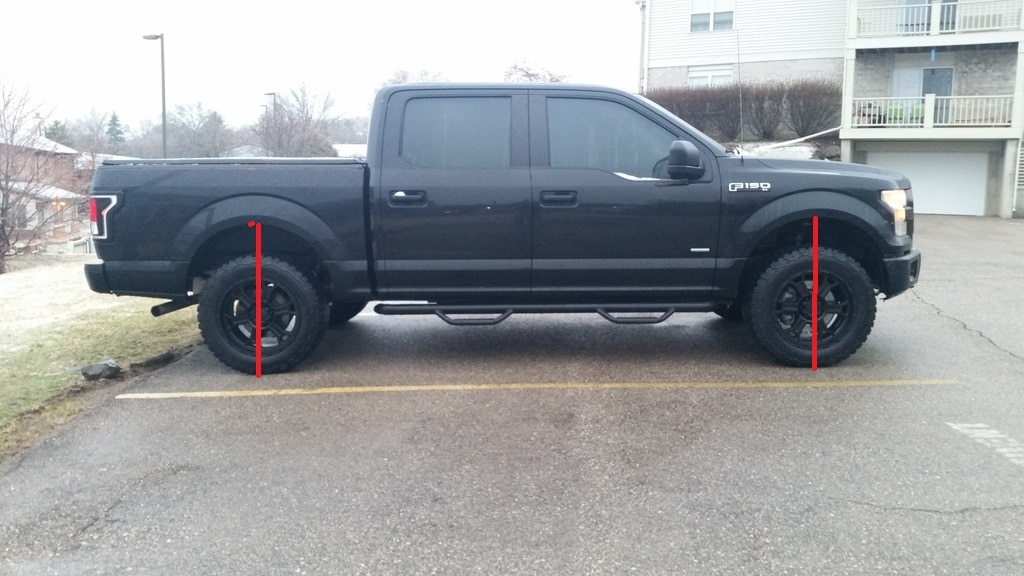 How To Measure If Your Vehicle Is Level
So how exactly do you measure your vehicle to make sure there isn't a problem?
A good reference point is measuring the trailer's wheel arch from the centre of the top. Then pick a fixed spot anywhere on the wheel. Do this without the trailer hitched to the tow vehicle.
Next, measure your tow vehicle in the same way. Keep in mind that it might be more challenging to get your rig level. You will know when it is, as both the rear and front sides will be the same.
Next, hitch up the trailer, and remeasure all the wheel arches. This will let you see the difference.
What if it is more than 20 mm for any wheel arch?
Then you need to check that you have followed the loading suggestion mentioned above.
What should you do if the arches of the wheels remain unlevel? Then, it's recommended to install sway bars to allow you to tow your rig safely on bumpy roads or highways.
How To Find The Best Sway Bars
There are many different sway bars available, so which is the right one for your needs? The main thing you should consider is the amount of weight which a tyre can safely support. The maximum air pressure the tyre can support is known as a load range.
First, check what the GVM is for your trailer. It can be found in your vehicle's owner manual.
Also, find out the loaded weight of your trailer. You can do this by going to a public weighbridge. You will also need the unloaded and loaded weight of the tow ball.
This can be determined at a weighbridge by first disconnecting the trailer from the tow vehicle. Next, by using the jockey wheel, rest the drawbar of the trailer on the scales. Luckily there is an easier way. Some caravan dealers have special ball mass scales and will be able to do it for you instead.
Once you have all this information. It's time to pick the tyres that can support the load range required for your vehicle and trailer weight.

Next, check that your preferred sway bar is compatible with your trailer and vehicle hitch. Consult the manufacturer's website for compatibility information  If you go for a popular brand like Hayman Leese, then you can find their sway bar guide here.
Are you unsure how to find the best sway bars and leveller riders, or have any questions? AllBrandCS are weight distribution device experts, and ready to help.
Contact us today by phone on (07) 3869 2969 or email info@allbrandcs.com.au to find the right weight distribution system for your needs.
[porto_block name="Bottom"]