Living in a caravan long term makes you think of always being in paradise. What can be better than following the sun from destination to destination? But that is not possible all the time.
If you live year round in your caravan, then you're bound to come across cold times. By adding a diesel heater to your rig, it lets you go anywhere you want. Rather than where is the warmest at the time – and enjoy the location, rather than only the climate.
If you want to keep warm in your caravan year round, let's look at everything you need to know about diesel heaters.
Types of Caravan Heaters
If you plan on adding a heater to your caravan, there are three different types available. LPG Gas, 240V Electricity or Diesel.
What is the difference between them?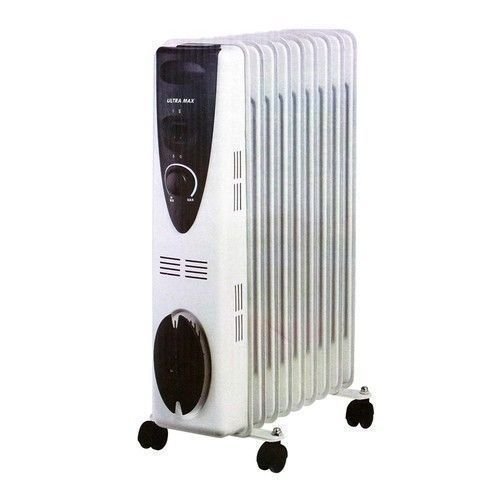 240V Electricity
Do you plan to stay in caravan parks which provides a 240V power supply for most of your travels? Then the best solution may be to install a reverse-cycle air-conditioning unit.
A downside is that the cost of buying the heater, as well as installation, is rather expensive. If you already have a cooling only air-conditioner, then costs can add up fast to have it switched over.
If you don't want to spend so much on a reverse-cycle air-conditioner, then a cheaper alternative is to bring along a portable heater. The downside is 240v heaters can take up valuable space, and also become a hazard that you may bump into or trip over.
Do you want a 240V Electricity heater, and plan to travel off the beaten path away from campsites with mains electricity supply? Then the only option you have would be to bring a generator. As this type of heater uses significant power, you will need to have a large generator.
The following generators all can run on a reverse cycle: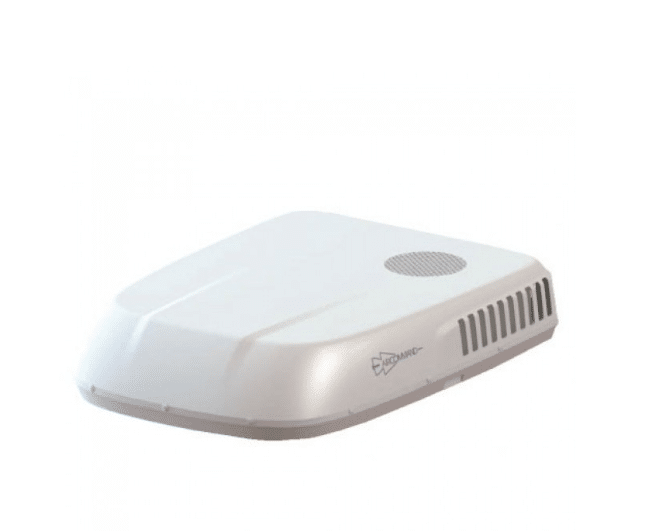 LPG Gas
Most caravans generally use gas for cooking. But it can also be used to heat water as well as run absorption-style fridges which has a burner attached.
As most caravans will already have a fuel supply in place, it makes adding a ducted heating solution using LPG Gas easy. The fuel is also clean-burning, and the units are not quite as noisy as the diesel heaters. quiet.
It also has some disadvantages. A certified gas installer must install the unit. There are regulations which control where they can be located in your caravan. You will also need to have enough 12V capacity to be able to run the LPG Gas heater.
As this will quickly use up your LPG gas supply, it can be difficult when you are travelling through remote parts of the country to be able to find LPG to top-up.
Diesel Heating
Many long-term travellers are choosing to make diesel their preferred choice for a heating solution. Diesel fuel is readily available throughout Australia, even in remote locations. The heating won't also drain precious LPG supplies. But Diesel heating does need a 12V capacity for it to be able to run.
The popularity of Diesel Heating continues to increase. So, suppliers have started manufacturing installation kits for anyone with competent DIY skills. By installing the kit yourself, it can save you a significant amount of money.
Want to know why diesel heaters are the best option for caravans? Keep reading to find out.
Why Choose A Diesel Heater?
Diesel offers many benefits over a regular heater, for a caravan. Let's look at the reasons why.
Safety & Regulations
Diesel heaters are widely used and considered to be very safe. They include an auto-shutdown if the system temperature exceeds a safe operating level, the same as LPG heaters.
Where diesel heaters provide extra safety is in regards to combustion and inhalation. If there is a leaking LPG fuel line, not only can it cause an explosion. It can also cause permanent nervous system and respiratory damage. Or in the most extreme case, death.
A diesel heater does not have these hazards. It is difficult to ignite, and you can also use it while you are driving. Which makes it perfect for letting you heat your caravan, even while you are still on the road to your destination.
Greater Temperature Control
LPG heaters only have a single speed fan. This is turned on and off as needed by the thermostat. Due to this, it's difficult for LPG heaters to maintain constant room temperature. But, diesel heaters have advanced microprocessors, which allows them to control airflow and combustion. Which provides a variable fan speed and lets them keep a constant and comfortable temperature.
A diesel heater is also cheaper than a Gas heater to run

It is also easier to install DIY
How Diesel Heaters For Caravans Work
A diesel heater directs the cold air of the caravan by using an intake duct. It then passes over a cylindrical metal surface which is hot. This heats any air which passes through it.
The ducting then directs fan-assisted air straight to an outlet. Warm air is pushed out of the duct and enters into the caravan.
The process is repeated over and over again, which leads to heated air right through the interior of the caravan.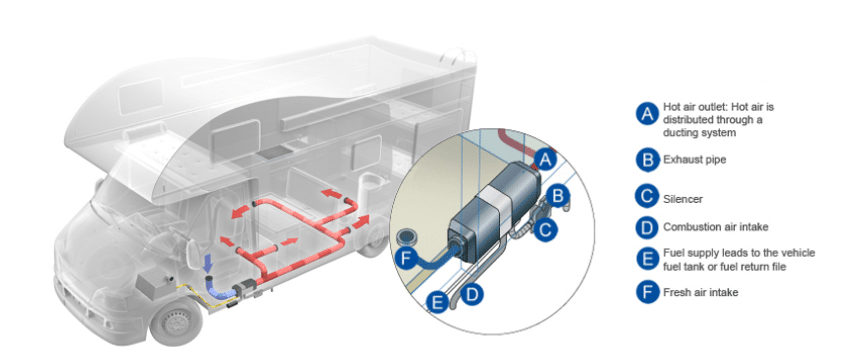 Types of Diesel Heaters for Caravans
There are many different diesel heaters available for caravans to choose from. With so many options, it can be hard to pick the one which is right for you. Let's have a look at the benefits of each.
The most popular models include:
Webasto Diesel Heaters For Caravans
Do you love to go on the road and bring your home comfort with you? Well, Webasto is the market leader and provides the perfect diesel heating solution for your caravan.
Webasto provides reliable, quality and high-performance heaters adapted to suit caravans. This is possible from their extensive testing standards.
Webasto Air Top 2000 STC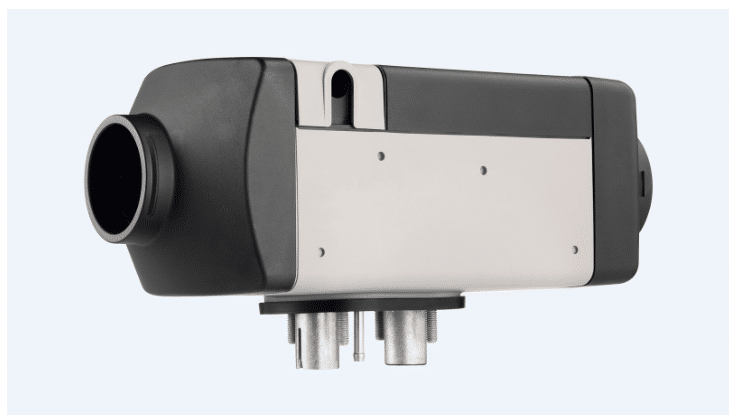 The Webasto Air Top 2000 STC air heater use stepless modulation to provide a continuous heating power output. This means that you can always experience precise temperatures within your caravan. No matter what the outside weather conditions.
It lets you install it either mounted to the outside of your caravan, inside the caravan or in the double floor.
You can buy a complete installation kit, which allows you to quickly DIY install the heater.
Benefits:
– The heater uses minimal fuel and electrical power
– Compact and efficient heater
– Continuous control over the temperature, with a constant ambient temperature.
– Easy DIY installation kits
– Quiet operation, and a low consumption
– Manual altitude function
– Features low noise applications such as vibration clacking brackets and extra silent fuel pumps
– Air intake and exhaust silencers
Webasto Air Top Evo 40/55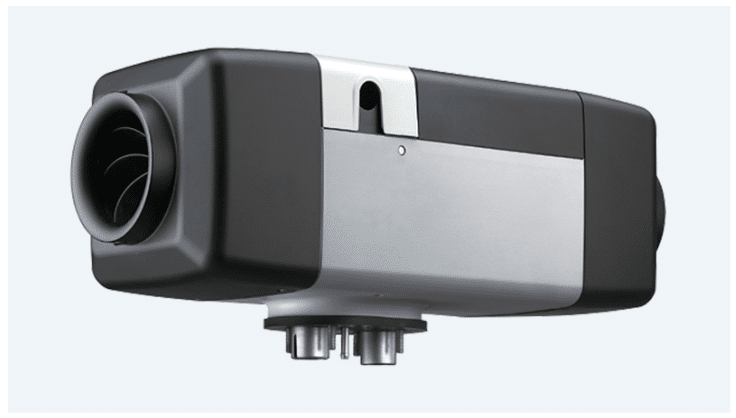 The Air Top Evo 40/55 is like the 2000 STC, but it has been designed for large commercial vehicles. It offers greater safety, comfort and heating capacity. It also features a built-in air pressure sensor.
Webasto Dual Top Evo 6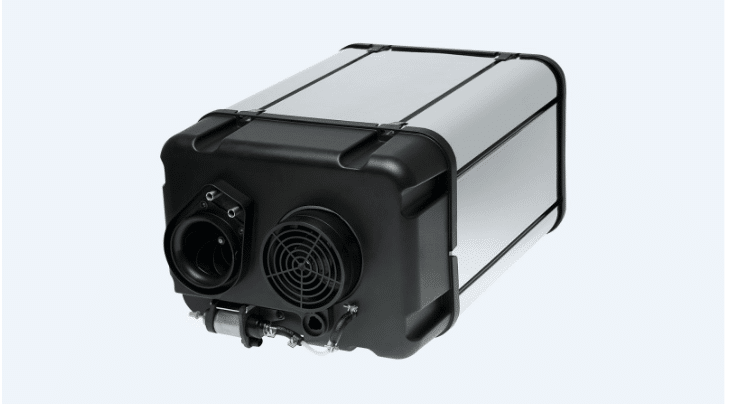 The Dual Top Evo integrates water heating and air into a single system. Enjoy caravan heating and hot water year round. This system has been designed to be installed outside of the caravan to allow for more storage space inside, and greater personal comfort.
Besides running on diesel, the Dual Top Evo can also run either on electricity. This makes it perfect for when you're staying on a campsite and have access to electricity.
Benefits:
– Provides both hot water and warm air
– Allows greater interior space due to its exterior installation  
– Has continuously adjustable temperature control
– Has antifreeze function and anti-freeze mode.
– Low noise and fuel consumption
– Efficient performance, even at high altitudes.
Dometic Diesel Heaters For Caravans
Dometic makes high-quality diesel heaters, which are ideal for caravans. There are two different models to choose from.
The Eberspächer Airtronic D4 and the Airtronic D2.
Both Dometic diesel heaters have the same features:
– Fully electronic microprocessor control
– Power stage to cut heating times
– Continuous monitoring
– Temperature pre-set facility which allows smooth automatic room temperature control
– Suitable for use for long periods. This is due to low power and fuel consumption
– Quiet night-time operation and wide control range allows for extended comfort
– Diagnostic system
So, what are the differences between them? TheD4 is a diesel heater, whereas the D2 is a twin outlet diesel heater.
What that means is that the D2 is smaller and more compact. It also has a lower fuel consumption peak of 0.28 l/h for the D2, compared to 0.51 l/h for the D4.
The measurements are as follows:
D2 D4
Depth 310 mm 376 mm
Height 122 mm 140 mm
Width 115 mm 150 mm
The D2 is more suited for small spaces and the D4 is for larger spaces.
Dometic Eberspächer Airtronic D2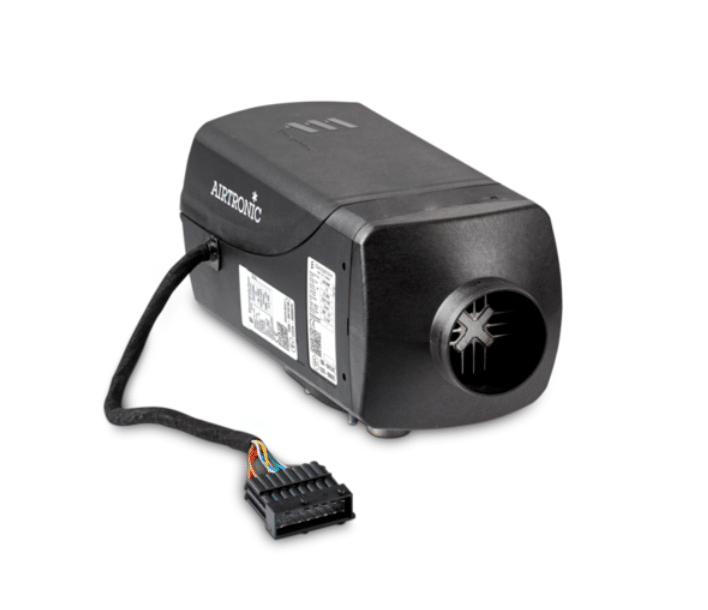 This twin outlet diesel heater has been designed for every kind of recreational vehicle, and suit caravans perfectly.
It provides smooth automatic room temperature control. As well as energy efficient operation, and easy one-button operation.
The D2 can be programmed to continuously blow hot air in your caravan until you reach your preferred temperature.
Its quiet operation makes it ideal for long-term road trips, and it can be installed in passenger areas.
Save money and power in the long-term with the D2 efficient diesel heater.
Specs:
Depth 310 mm
Height 122 mm
Width 115 mm
Net weight 2.70 kg
Input voltage (DC) 12 V
Manual: Installation and operating manual
Dometic Eberspächer Airtronic D4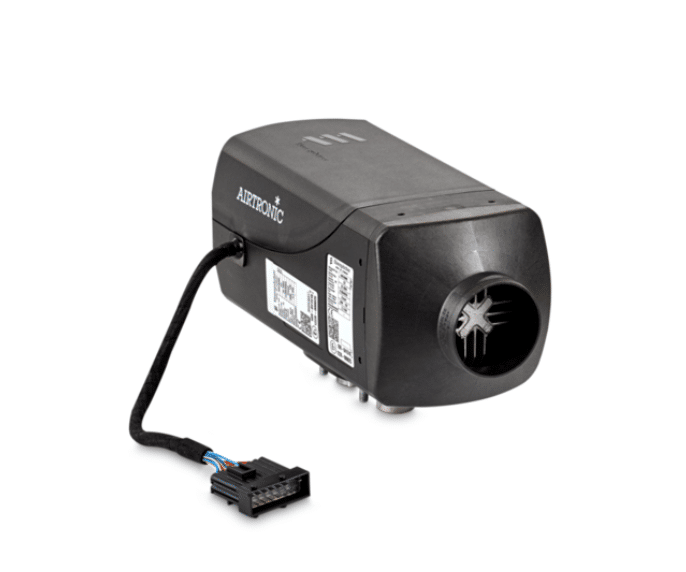 This Dometic diesel heater is a single outlet air heater. It has been designed to suit every type of recreational vehicle, including caravans. If you are looking for smooth automatic room temperature control, the D4 is perfect for you.
Specs:
Depth: 376 mm
Height: 140 mm
Width: 150 mm
Net weight: 4.50 kg
Input voltage (DC) 12 V
Manual: Installation and operating manual
Truma Diesel Heaters For Caravans
Truma Diesel Heaters lets you feel cozy at home all year round. Even if you are staying in harsh and cold weather conditions.
Truma Combi D6 Heaters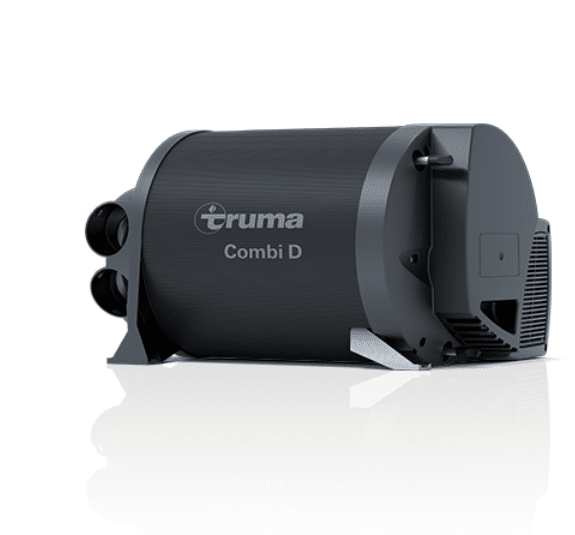 Truma Combi heaters combine dual functions into one heater. They both warm up your living area in your caravan, as well as heat water which is stored in the integrated stainless steel tank.
The Truma Combi D6 is a diesel heater designed for caravans and large motorhomes.
A huge benefit is that it uses a fan which allows the motorhome heater to work while you are driving. Heat your caravan while you are on the road right, so it's warm when you stop for the night.
During the warmer months, you can choose to only use the water heater, without heating the caravan.
Advantage:
– Has a powerful yet quiet fan
– Provides the best warm air distribution
– Its compact design is space saving, giving you options to install it in many places.
– The heater has low energy consumption
– Can be operated with an empty water tank
Planar Diesel Heaters for Caravans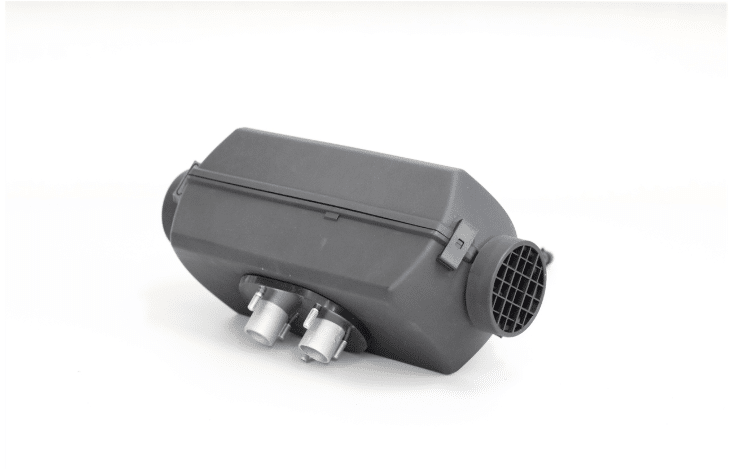 Planar makes an extensive range of models of diesel heaters. They are designed for heating the interior of caravans, boats, motorhomes, buses, and truck cabins.
Each Planar diesel heater comes with an installation kit. They also include an operational manual with simple step by step instructions.
They are available in two different options: 12V and 24V, and different sizes to heat caravans/RVs between 25 feet to 75 feet.
You should select the right Planar heater for you based on whether you need 12 or 24v and also the size of your vehicle.
For a full range of products, refer to the Planar website.
German-Made Diesel Heaters For Caravans
Eberspächer is well-known for its German-made diesel heaters. They are producing quality products with pride which reflect their efficient German engineering heritage.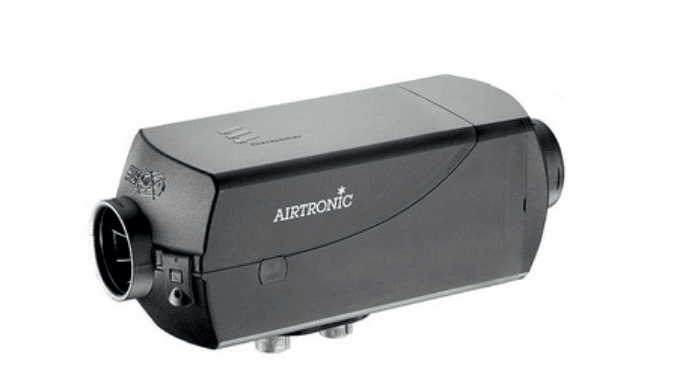 The  Eberspacher D2 is the most popular model. It includes optimised fuel efficiency, programmable heating, and different operational modes.
If safety is a high priority when looking for a Diesel heater,  then Eberspächer provides unsurpassed safety standards and high-quality construction.
Portable Diesel Heaters For Caravans
What if you only want to go away for a one-off trip during colder weather? Or you don't want to install a permanent heater either inside or outside your caravan?
Luckily, there is an easy solution. A portable Diesel heater!
Snugger make high-quality and reliable portable diesel heaters for caravans. A bonus is they can also be used in many different situations as well. Use it for your tent, boat, cabin, or anywhere else your imagination takes you.
The Snugger Remote SF2 Portal Diesel Heaters are available either as a full kit, or a heater frame and tank only.
Snugger Remote SF2 Diesel Heater (Full Kit)
The full kit has everything you need to get up and running.
Just connect a 12V DC and fill the diesel tank.
Then you have a portable diesel heater, which is attached to an S/S frame. It's that easy.
The kit includes an additional exhaust pipe, as well as a hot air duct.
Specs:
Height: 270mm
Length: 330mm
Width: 300mm
Weight: 7.5kg
Manual: SF2300 Manual
Snugger Remote SF2 Heather (Frame and Tank Only)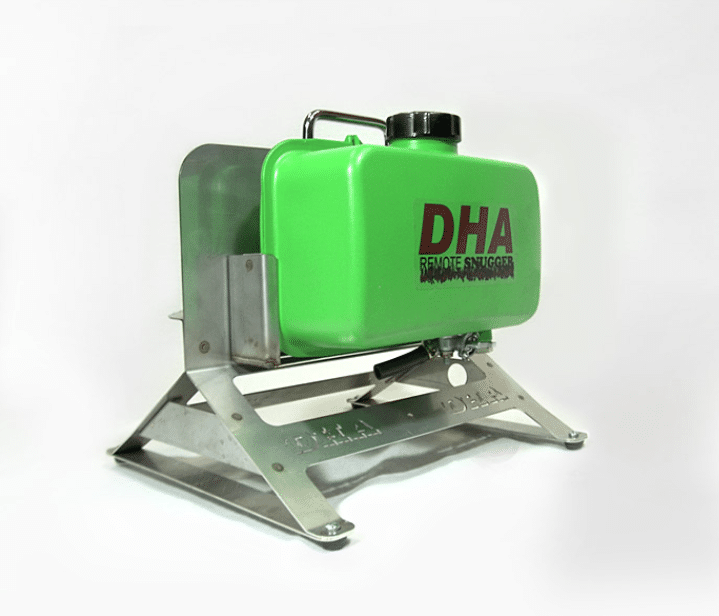 If you feel comfortable fitting the SF2300 heater by yourself, you can buy the remote frame and tank. Doing so will save a significant amount of money.
The frame is also compatible with any other 2kw class heater currently available.
Specs:
Height: 270mm
Length: 330mm
Width: 300mm
Weight: 3.8kg
Which Diesel Heater Is Right For You?
In the end, it comes down to your preference of brand for which diesel heater is right for you.
Caravans are all different when it comes to size, materials, and construction techniques.
So, there are a few questions you should first ask before making a decision about which one to buy.
Where will you mount the diesel heater?

Will there be enough room to fit the unit in your preferred location?

What is the distance between the heater unit and the fuel tank? The closer they are, the better.

Where will you place the control switch and the thermostat? You should think about operating efficiency.

Do you have enough of a payload allowance for the extra weight of the diesel heater, as well as a full tank of diesel fuel?

Are you buying a unit which includes an Australia wide warranty? Are there service agents throughout the country?

What brand caravan do you have? Is there an installation kit available for your model caravan?
Diesel Heating Myths
Diesel heaters have become an affordable and popular option in recent years. But, there is still some misconceptions and doubts people have.
Let's take a look at each one.
Are Diesel Heaters loud and noisy?
There are some diesel heaters which may make a ticking noise, Or in extreme situations sound like jet engines at takeoff. But, this is usually only common with low-end kits and poor installation.
The fuel pump must be installed using rubber mounts. This will provide insulation and prevent drumming through the chassis reel.
Kits from reputable manufacturers all include intake silencers for the fresh air intake. The way these are positioned will drastically reduce the amount of noise.
If I install the heater DIY and it is incorrectly done, can the unit catch fire?
A diesel heater can be fitted by someone who is competent at DIY projects and has a sound understanding of electronics and electrics. Make sure that you follow the instructions for installation. Also, pay close attention to both the muffler and the exhaust pipe.
Be sure not to place the muffler outlet close to any open windows. Also, ensure that the exhaust pipe is secured away from any plastics or appliances like the hot water service.
Does Diesel Heating Have a Smell?
There should not be a smell inside your caravan. But, if you have left your window open and there are strong winds, it may come inside.
Although, as diesel is a combustible fuel, upon start-up there can be a strong smell outside, which then reduces after the heater has been running. This works similarly to a generator.
Installing Diesel Heaters For Caravans
Installing a Diesel Heater yourself is easier than a lot of people realise. Manufacturers make diesel heater kits to help simplify the process.
This informative video shows you step by step how to install a diesel heater in 6 minutes.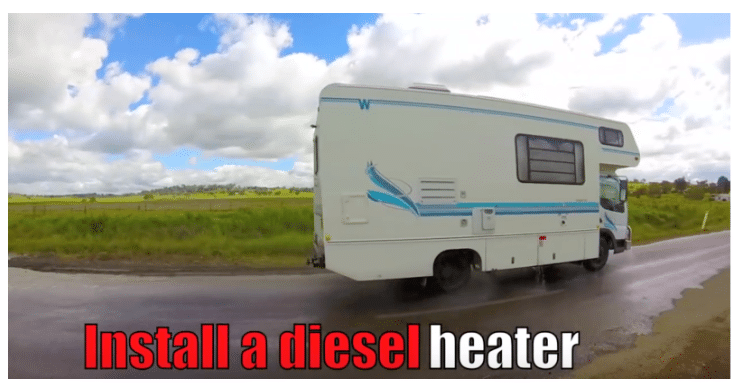 Do you have any further questions? Or are looking for a professional caravan servicer to install a diesel heater for you?
Look no further than AllBrand Caravan Services.
Contact us today on (07) 3869 2969
[porto_block name="Bottom"]