Nothing beats escaping to the great outdoors and camping in nature. Are you looking to expand your living space? The ideal solution is to add an awning to your caravan.
An awning is perfect for all travel conditions. It gives you more space. It also offers protection from the rain and the harsh Australian sun. Awnings provide shelter and keeps your equipment dry from the elements. Caravan awnings also give you extra privacy, by adding annex walls or a screen. This allows you to personalise your living space to suit your needs.
A major benefit of a caravan awning is that they are easy to set up even for one person. The average time to set up an awning is less than 5 minutes, making it perfect for the short stays. Whether you are pulling over for a quick lunch, or are making camp for a week, it's worth having a caravan awning.
If you're thinking of upgrading or purchasing a new awning. We are about to cover (pardon the pun) the 3 most popular and loved caravan awning brands sold Australia wide. In this complete guide to caravan awnings. You will find the pros and cons, which caravans or vehicles they will fit and the best features about them.
Most Popular Caravan Awnings
In Australia there is a large selection of high-quality and popular caravan awnings to choose from. Each brand has spare parts readily available. They also come with easy to follow instructions. This makes setting up awnings a straightforward process. With a few basic tools, almost anyone can set up an awning.
The three most popular and best selling brands are
– Carefree
– Fiamma
– Dometic
Carefree Awnings
Carefree live up to their name, making their awnings simple to set up as well as being highly durable. Carefree is an American company, who specialises in awning manufacturing. Their awnings are most commonly used with Jayco caravans. The most popular carefree caravan awning models included the Fiesta and Freedom models.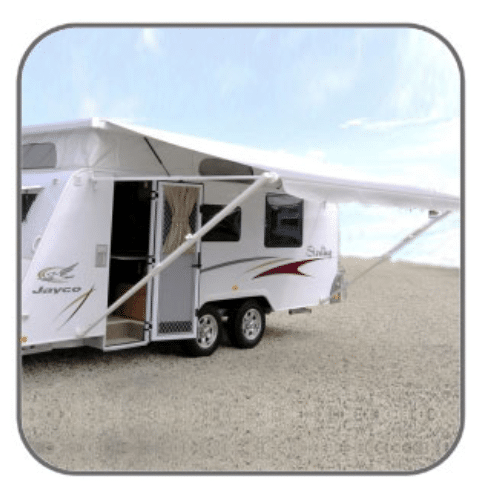 The Carefree Fiesta Awning is a rollout awning. It is best suited for caravans, pop-tops, and flat-sided motorhomes. A fiesta awning is not suitable for most curved walled vehicles or camper trailers. If you have a Nissan or Toyota Coaster, there are special legs which are available to use.
While in transit, the arms of the fiesta awning are clipped to the bottom of your caravan and kept securely in place. Once you arrive at your destination, it is then easy to unwind by using a web strap (Similar to a roll-up blind).
Next, to get the roof height you desire, you need to extend the legs. Then extend the roof braces. This will make sure the fabric is held taut. For the legs of the fiesta awning, you have two different options. You can either keep the legs attached to the base of your caravan. Or, they can be pegged vertical to the ground.
Carefree Freedom 12 Volt Awning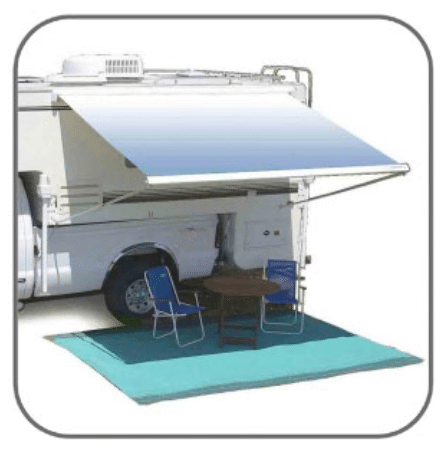 Carefree 12 volt awnings are another popular model because it is automatic. They contain a side mounted case which is operated electronically via a button. The Carefree Freedom 12 Volt Awning is similar to the Fiamma F45.
The Freedom 12 Volt is ideally suited for campervans. They also work well with any motorhome which has vertically curved walls. But, you should note that in Australia, there are no matching Fiamma walls for sale which suit this awning. However, they are available from aftermarket suppliers such as Tebbs Canvas.
What happens if you are in the most remote and beautiful Australian location and need a spare part? Carefree caravan awnings are carried by most major suppliers nationwide and have a full range of spare parts available. So no matter where you are on the road, chances are you can find a replacement nearby and continue on your journey.
 Fiamma Awnings
Fiamma is located in Italy, and they manufacture a broad range of Caravan products. They are most known for box style awnings, which are hugely popular in Australia and overseas.
The best selling Fiamma awning is the F45. While a lightweight F35 is also produced to suit offroad campers and 4×4's. Fiamma also makes a large range of accessories for awnings. They let you fully customise your living space to suit your lifestyle and design tastes.
Some of the available accessories include:
Speciality roof rafters

provide the awning fabric with more tension and extra strength. This helps stop water pooling and flapping.
Walls & Privacy screens

provide weatherproofing as well as increasing privacy
Led Lighting

a perfect energy efficient lighting solution
Fiamma F45 Awning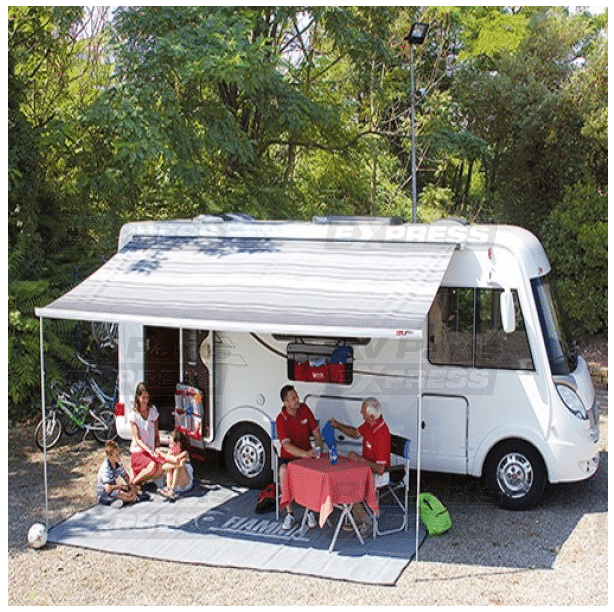 The Fiamma F45 Awning is a wind out awning. It connects to the caravan wall and comes in two different configurations. The standard profile is for awnings which are up to 4.5 meters long and will suit most vehicles. There is also a larger awning which is 5 meters long.
The Fiamma F45 awning is very slick and has a low profile. It appears as only a solid aluminium case. There is no visible arms or anything sticking out while travelling.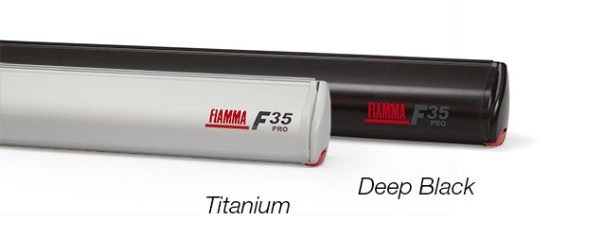 When you wish to extend the awning, you can use a detachable winder handle. When winding the awning, the front of the case extends horizontally, much like a porch. While it extends, it pulls out the fabric at the same time. Once it has been fully extended, then from the front face, unclip the legs and wind out the rest of the fabric.
A benefit of the Fiamma F45 awning is that one person can open it on their own. The legs can be clipped to the base of the caravan, or pegged to the ground.
This awning is perfectly suited to camper vans and motorhomes with curved vertical walls. They can also be used on any other style of caravan too.
Fiamma F65 Awning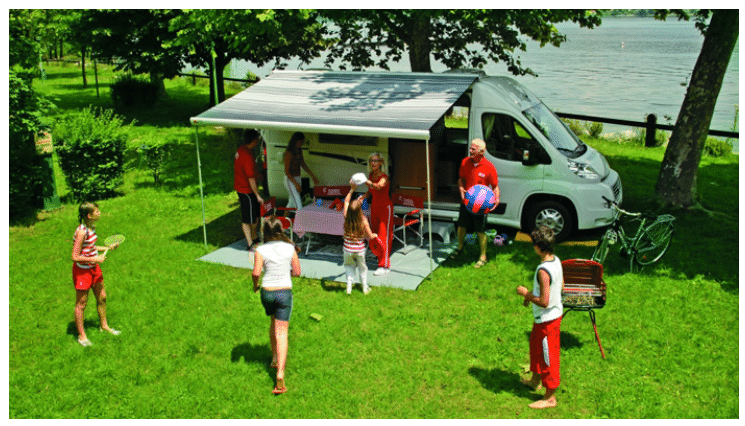 The F45 awning is much like the Fiamma F65 awning. The main difference between them is the F65 is installed above the corner of the vehicle.
The F65 never took off in Australia as much as the F45 did, and because of low sales, it's often difficult to find a complete F65. A lot of retailers only sell spare parts instead.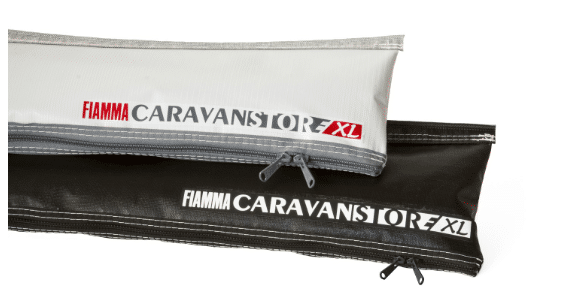 Fiamma CaravanStore XL Bag Awnings are lightweight, sturdy awnings. Best suited to Minivans and windup camper trailers. This awning uses a sail track to attach to the vehicle. A CaravanStore Bag awning lets you permanently install it. Or you can attach and remove it in-between being used.
The Fiamma CaravanStore awning features integrated legs. It is stored in a soft and sturdy protective bag. During setup, you need to first unzip the full-length zip of the bag. Then unwind the fabric and roller by holding it in the centre. It takes two people to set up.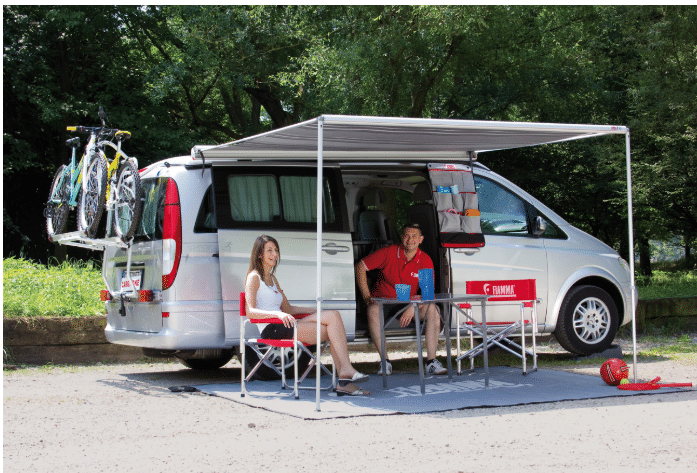 The Fiamma F35 is very similar to the CaravanStore. Although instead of being in a bag, it is stored in an aluminium case. An advantage over the CaravanStore bag awning is that the casing offers greater protection for the fabric. This leads to it lasting longer. It also provides more support with mounting, especially when used with roof racks.
To set-up, you open the case and unwind the fabric and roller by holding the centre. The legs then slide into position along with the horizontal braces. The F35 is suited for roof-rack mounting, smaller campervans, and windup camper trailers.
Fiamma awning walls
Do you find yourself wishing you had more privacy with your caravan awning? Fiamma offers awning walls which come as a kit. They include brackets, and also a rafter which is used to attach the wall too. Although the wall itself isn't made of shade cloth, it's vinyl. It also features a built-in window, so that you can take in the amazing view whenever you choose to.
Fiamma also makes a range of screens and waterproof walls. This allows you to create a fully enclosed annex. These walls include a door, windows with flyscreens, and are made to fit standard roll out awnings.
Fiamma awning parts
Fiamma has a huge range of spare parts available. In case something breaks down it can quickly be fixed.
Spare parts include:
– Winch awnings for wall installation
– Manual awnings
– Pop out wall awnings
– Winch awnings for roof installation
– Awnings with enclosures
– Enclosures for manual awnings
– Enclosures for winch awnings
– Side panels
Are Fiamma awnings waterproof?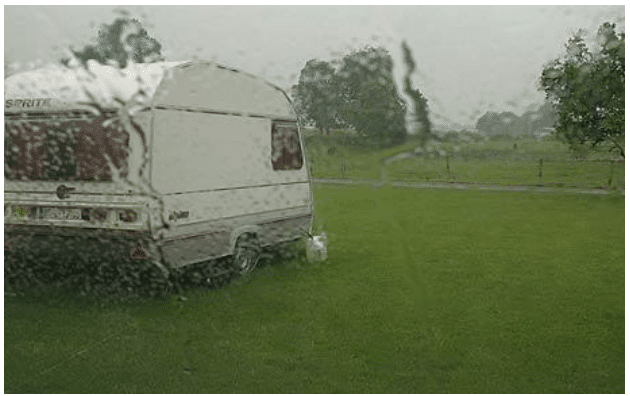 According to Fiamma, their awnings are "designed to shelter you from the sun and not the rain". It's not recommended to use them in the rain, wind, or snow.
In case there is light to moderate rain, you should lower one leg and raise the other one. Don't forget to install the centre rafter. This will allow water to run off the awning.
But, if you are finding that the rain is causing a water pool to form on the fabric, then roll it in immediately!
Water pooling can actually lead to the fabric stretching. This may cause the awning not to close correctly.
Also, Fiamma doesn't cover water damaged or stretched fabric under their warranty. This is another reason to keep it out of the rain whenever possible!
Dometic caravan awnings
Dometic is best known for their range of A&E roll out awnings. They are one of the most recognised names in the Australian caravan industry. There are two Dometic awning models available – the 8300 and 8500. There are also universal hardware kits. They can be used with either awning to add further customisation.
Which Type of Dometic Awning Is Right For Me?
Dometic awnings come in two different types.
Roof Awnings


These are fitted to the roof of the caravan




Models: A&E 8300, A&E 8500, A&E 9000, PerfectRoof PW 2500
Wall Awnings
These are fitted to the wall of the caravan
Models: PerfectWall PW 1500, PerfectWall PW 3800, PerfectWall PW 1000)
Which type of awning is right for you depends on a few different factors.
How much room is above the windows and doors of your caravan?

What is the shape of the caravan's side where it meets with the roof?
If your caravan has curved edges, then a roof awning is suitable
If your caravan has square edges and enough room above the door, then a wall awning is suitable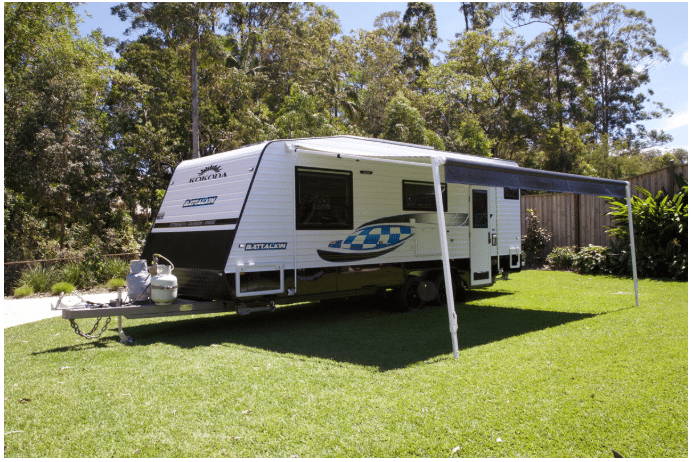 The 8300 awning model is best suited for vacations, such as a short getaway or a few weeks. It is not designed to be used for extended periods of time.
In recent years, the difference between the 8300 and 8500 model has gotten smaller. The 8300 now features heavy-duty fabric compared to the earlier models. The hardware is now also standardised across the A&E range.
The main difference between the two is the assembly/torsion spring. There are also some cheaper and simpler parts – to keep the lower price point.
The A&E 8300 is the best seller in the range and is a highly popular version.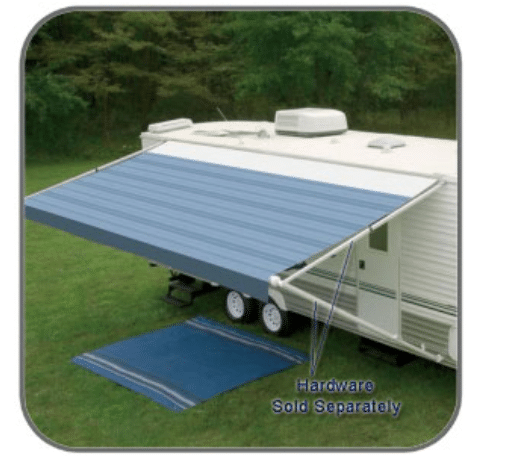 The Dometic A&E 8500 is best suited for ongoing continual use. It is higher quality than the 8300 and made to last for rigorous usage. The 8500 features a stronger spring, and also some higher-quality components.
Dometic A&E 9000 Awning
The Dometic A&E 9000 is an older model awning. It has recently been discontinued as it never really took off in popularity as the 8300 & 8500 awnings did.
Dometic PerfectWall – PW1500 & PerfectRoof – PW2500
Dometic extended their awnings beyond the A&E range. They now also have box/cassette awnings.
Previously known as the Proctor awning, the PerfectWall PW1500 and PerfectRoof PW2500. This awning was produced to compete with  the Fiamma F45 and F65 Awnings.
They are customizable to fit almost any type of caravan. The PerfectWall comes in sizes from 2.6 to 6 meters and is available in both 12v and manual operations.
Dometic Wall Mounted Awnings
Dometic also has an extra range of wall mounted awnings available.  They offer a wide variety of wall mounted awnings, which include:
This is the strongest wall awning on the market. Period. The PW 3800 features robust retractable arms. It also includes an extra-strong anchorage and double steel ropes. The PW 3800 is to be set up without needing support legs. Instead a retractable arm supports the weight of the awning.
The PW 1750 offers a fully integrated roller blind which lets you block out any sun glare. The awning can be positioned at any height. To secure the awning in place, you can fasten it to the ground or the awning support legs.
The PW 1000 is the perfect entry level wall mounted awning to suit any budget. It offers excellent value without compromising any of the features of other more expensive awnings. This awning includes strong awning fabric and a front rail which adjusts automatically for any inclination angle.
Dometic awnings colours
Dometic is known for its wide range of colour choices, to help you customise your caravan to feel like home. Check out the full range of dometic awnings colours (PDF).
Dometic awnings replacement fabric
With Dometic awnings replacement fabric you are able to replace a worn, faded or damaged awning. Best of all, you don't have to replace the entire awning. This makes it very affordable to repair your awning. Replacement fabric is long-lasting and easy to install.
Dometic awnings manuals
If you need to consult the Dometic awnings manual, they are available here:
Known Dometic awning problems
There are some problems associated with an older Dometic model, the Dometic A&E 9100 Awning. In 2013, Dometic issued a product recall. They also initiated a replacement of affected awning units.
This issue only affected certain units which were manufactured between February 13, 2013 (serial #306XXXXX ) through April 9, 2013 (serial #314XXXXX).
While this model is no longer in production, are you planning to buy a used Dometic awning? If so, you should be aware that it is not in the affected batch of awnings.
These awnings experienced issues due to an important manufacturing step being bypassed.  The motor can be damaged, which can cause the awning to unexpectedly unwind in transit or stationery.
Cleaning dometic caravan awnings
Dometic has their own brand of Dometic Awning Cleaner. This is recommended for use on their awnings. The cleaner removes deep-clinging dirt and helps to restore surfaces. You can make your awning look as good as the day you bought it!
This specially formulated and designed cleaning product is suitable for all Dometic awnings.
How to measure a Rollout Awning
To measure a Rollout Awning (Dometic or Carefree) there is a right way and a wrong way. Many people get confused. For either a new rollout awning or replacement vinyl, do not measure the vinyl. Instead, you need to measure between the centre of the arm on the left to the centre of the arm on the right.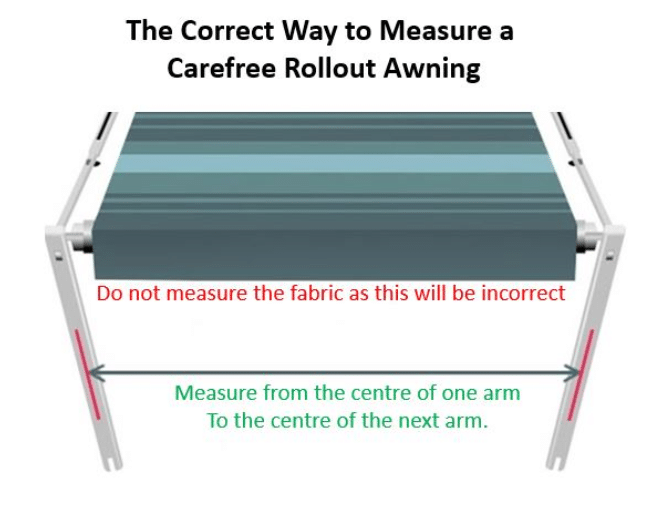 How to put up caravan awning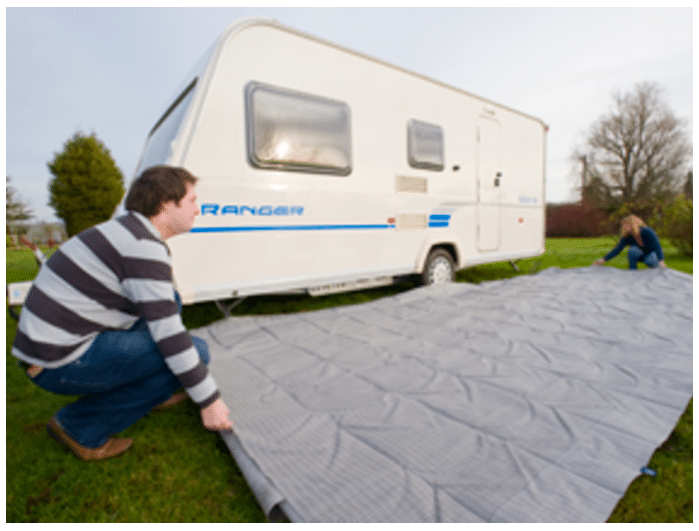 There are generally three different kinds of caravan awnings. A Box awning, rollout awning, and inflatable awning. With each one having a different method to put up and put down.
Box awning
Winding out a box awning, such as a Fiamma or Dometic is a very quick process, which can be done by one person. The following video demonstrates a step-by-step guide for how to wind out a box awning.
Rollout awning
Setting up a rollout awning is simple, even for one person. First, you undo the travel locks, then undo the ratchet, then set up the support arms. Next, it's time to set up the legs and lock them in place. Then take the locking arms support off, and add the centre support arm. This video takes you through step by step how to set up a rollout awning. 
Inflatable awning
Inflatable awnings are not as common as box awnings or rollout awnings. This video demonstrates how to put up an inflatable awning. It is the same process for Outwell, Vango, Kampa and Sunncamp models. While it's possible to put up an inflatable awning with one person, it is much easier as a two-person job.
How to put down the caravan awning
Now it's time to pack up and move onto the next location. Putting down your box awning doesn't need to be a chore. It is very easy to do.
Box awning
This step-by-step video shows how to put down your box awning when it's time to put your awning away. First take out the centre support. Then remove the arms secured to the side of the caravan, then wind the handle back to about half way. Once the awning leg starts to move, push it up and clip it into the top.Then do the same for the other leg. Lastly wind up the awning the rest of the way.
Rollout awning
To put the rollout awning down, you need to do the complete reverse steps of how you set it up. The following video demonstrates how to put down the caravan awning. First you unlock the arms and slide them down. Then put the arms down, put the ratchet back and firmly hold the strap. Let it go back, and then lock and close the knob.
Inflatable awning
This video demonstrates how to put down an inflatable awning and properly pack it away. The method can be used for Vango, Sunncamp, Outwell and Kampa models. The pack up process is rather quick and easy to pack the awning away and takes less than half the time as to put it up.
To begin taking it down, leave the guide ropes and straps in place. In case there is a strong wind, the awning will remain in place. First take out the base points from the main two corners.
Deflate the air beams inside, and put them outside the awning. Next remove the straps. Deflate the beams. Remove the guide ropes. Slide the awning off the awning rail. Flip it on its roof and spread it out. Try to keep it straight in a square. Fold it down into a bag size width. Fold from the centre to push the air out. Then roll it with the valves at the bottom. This will squeeze all the additional air out. Use the ties to secure the awning in place. Then put it into the bag.
Caravan awning maintenance
Caravan awnings can be quite expensive but enhance your great adventure. It would be a shame something was to happen which damaged it, especially if it was easily preventable. By taking proper care of your caravan awning, it will allow you to enjoy many years in the great outdoors.
Tips to take care of your caravan awning:
Practice setting up your awning at home If you run into any problems, you will be able to get help to resolve them without the stress. If you are out on the road however, it may lead you to panic, and cause damage to your awning.
Don't be afraid to ask for help If you are struggling to set up your awning, instead of doing it wrong, ask for help. Either from your neighbours or friends. Don't feel embarrassed asking for help. A second perspective might be all you need.
Check The Wind Direction This will let you set up the awning in a way that it is protected in case there is a sudden increase in strong winds.
Check Daily Weather Forecasts This will let you know the upcoming weather conditions. If a bad storm or high wind are approaching take down your awning to stop it being damaged.
Prevent Moisture Remove the awning in the afternoon, or a day before you will leave. This will let the awning dry properly. It will also stop moisture from building up. Putting away an awning which is damp may lead to mildew and damage the awning fabric.
Caravan awning repair kit
Are you are going to be going off the beaten path? Then it's recommended to bring along supplies which can allow you to repair your caravan awning in case of an emergency.
There is a selection of caravan awning repair kits available. These include patches, eyelet punches, and eyelets. They can be used to make a temporary repair of any rips or tears. Being prepared prevents your holiday from being ruined!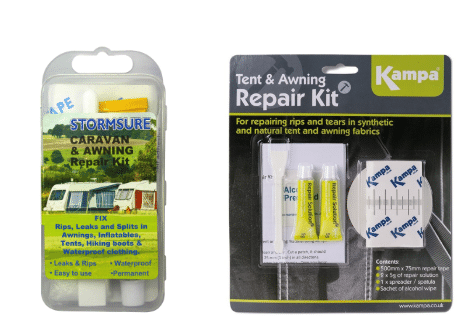 Caravan awning repair tape
Caravan awning repair tape offers a permanent solution for any punctures or rips in your awning. It can also be used for tents and canvas. The tape prevents tearing in any direction, and the strong adhesive ensures that it stays in place and doesn't move. Repair tape provides an inexpensive solution for repairing your caravan awning

Caravan awning replace vinyl
Do you need to replace the caravan awning vinyl? There are third-party manufacturers who offer high-quality replacement fabric. The vinyl is available in a universal design and is waterproof, and double-sided. They also come with poly rope pre-installed, which makes it easy to install.
How to remove stains from vinyl awnings
So your awning has got some nasty stains, which is causing a yellow discolouration. Stains aren't only visually unappealing. They can also do damage to the fabric if left over a long period of time.
It's recommended to keep an eye out for any stains and identify them as soon as they occur. This will minimise any chance of damage to the awning or fabric.
But, if you already do have some stains, it's easy to treat them.
Step 1. Use a high-quality cleaner which is designed for outdoor vinyl and fabrics to wash the awning. Check with your manufacturer to see if they have a recommended cleaner.
Step 2. After you have cleaned the vinyl awning, next apply a high-quality surface protectant. It's recommended to use a spray with is stain and water repellent, as well as soil resistant. Most importantly, it should also be long-lasting.
Step 3. Regularly apply the protectant spray. This ensures that your awning not only stays cleaner longer. It will also dry faster. This is very important, as when you need to roll up and store it, it's less likely to still be damp. Which reduces the chance of stains or mildew in future.
Cleaning mould off caravan awnings
There may be times when your awning requires more than a regular clean to remove dirt and debris. You may also find there is some mould on your awning.  To get rid of it, you need to use a suitable cleaning product.
The first step should be to check with the awning manufacturer. Do they recommend a certain product to remove mould?
If there is no recommended product, you can use a homemade DIY solution to do the trick.
The answer – mix 1 part of diluted chlorine bleach together with 4 parts water.
Then spray the solution onto the mould, and then leave the awning to dry.
After it has dried, wash the solution off, being careful to not miss any areas, and then let the awning dry again.
This solution will kill off any mould, and get rid of the mouldy smell. But, it won't be strong enough to remove any stains which the mould has caused.
How to secure a caravan awning
Securing your caravan awning is important to protect it from being damaged during high winds. By taking some precautions, it can help keep your caravan awning safe and ensure it lasts for a long time. It will also save you money from not needing to pay for expensive repairs.
Here are some measures you can take.
Caravan awnings in high winds
The best thing you can do to protect your caravan awning is to keep a close eye on weather conditions. If high winds have been predicted, then it's sensible to take down your awning until the winds have passed. This will reduce any damage.
But, if you are caught unprepared, there is no best caravan awning for windy conditions. It is rather how you prepare your awning that will ensure it rides out the storm.
Here are some tips to secure a caravan awning:
– Pitch all the poles as tightly as possible
– Use large and high-quality awning pegs. Ensure they have been fully hammered into the ground.
– Put pegs in at every pegging point. Using a 45-degree angle offers the best resistance
– Make sure to use storm straps which are well fitted to the awning
Best way to stop caravan awning from flapping
If it is starting to get windy, what is the best way to stop your caravan awning from flapping? There are some different ways you can do this, and they all take a similar approach. To reduce flapping, each method increases the strength and stability of caravan awnings. They also help to prevent damage
Each kit ranges in price, from cheap to very expensive.
– Clamps suitable for manual awnings, The clamps help to reduce flapping. They also prevent fabric tearing from occurring. Clamps are not 100% effective, but they do prevent significant flapping from occurring.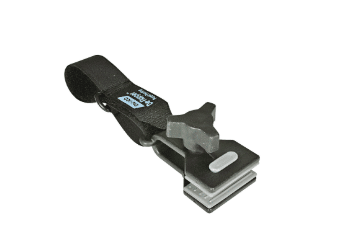 – Tie down kit includes a spring tensioner and heavy duty pegs, which secures the awning to the ground. The tie down kit is most effective when combined with clamps. Together they provide greater stability than either would on their own.

Clamps and a tie down kit can greatly reduce awning flapping. But, if you are experiencing high winds or a storm, then it's strongly recommended to store your awning. This will stop any damage from happening.
Snap on caravan awning protector
A snap on caravan awning protector is a lightweight solution. It also protects the awning fabric when it is being stored. The protector is made of moulded UV resistant plastic and easily snaps onto the roller of the awning.
Guy ropes for caravan awnings
Guy ropes are ideal for replacement parts for a caravan awning when required. They come in a kit which includes 6mm rope, a heavy duty wood slide, and a spring. Guy ropes are extremely durable and very cheap. If something was to go wrong with your caravan awning, then a guy rope lets you make a quick repair.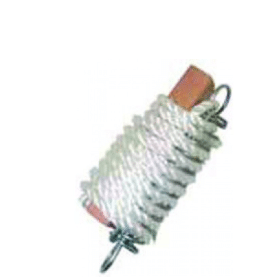 How to secure an electric RV awning
Electric RV awnings have been increasing in popularity in recent years. They make setting up an awning as simple as pushing a button and pulling out and retracting the awning. But there is a tradeoff. They don't quite provide the same security and sturdiness a manual awning provides.
Luckily there are some easy solutions to secure an electric RV awning.
First, it's important to check the features of your electric awning before deciding to add extra support. Some of them come with built-in wind sensors. If strong winds are detected they will automatically retract. Unless you override the system, your awning may try to retract with attachments in place. This would end up causing a lot of expensive damage.
Next, it's important to realise that this solution should only ever be used when there is light wind or no wind at all. If the weather starts to get worse, then you should quickly retract your electric RV awning.
Are windy conditions likely? Then you should also retract the awning overnight Or if you will be away from your RV for long periods of time
Caravan awning anchors
Caravan awning anchor kits are made to help provide extra security for light wind gusts. Most kits include an anchor which is then screwed into the ground at each end of the caravan awning. A strap or sturdy cord then runs through the anchor and up to the awning. Caravan awning anchor kits are rather inexpensive and provide extra peace of mind.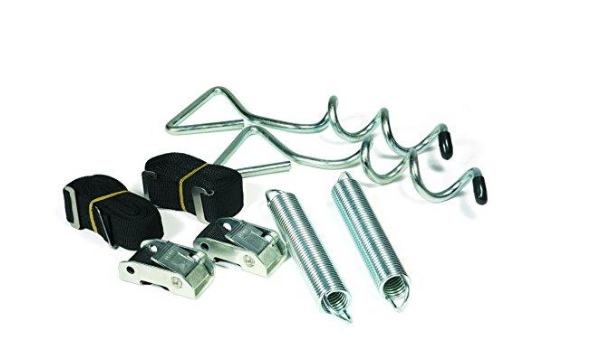 But, if you are caught off guard, it's also possible to make DIY caravan awning anchors. You can make them with heavy-duty rope or string and a dog tie out stake!
Ratchet Straps
What if you need extra support for your electric RV awning? If the straps included with an anchoring kit aren't enough, then a ratchet strap will provide a stronger hold. Be careful not to tighten the straps too tight. Doing so may damage or bend the awning.
A DIY solution is also possible, with a heavy duty tent stake, or a dog tie out stake as a strong anchor for the straps.
Do you have any further questions about caravan awnings? Want to find the awning which complements your caravan and lifestyle? AllBrandCS is an approved caravan service centre in Sandgate QLD and our professional team is ready to help. Call us today on (07) 3869 2969, schedule a call on https://allbrandcs.com.au/bookings or  contact us here.
[porto_block name="Bottom"]