Family camping getaways are one of the best opportunities to create wonderful memories and bond with your loved ones. Although camping is usually an activity that should be spent spontaneously, proper preparation is still crucial for both safety and enjoyment. Not surprisingly, food is one of the most important things to prepare for camping. In this article, we will share eight easy-to-make family camping meals for both adults and kids.
Simple Family Camping Meals
1. Grilled Sausages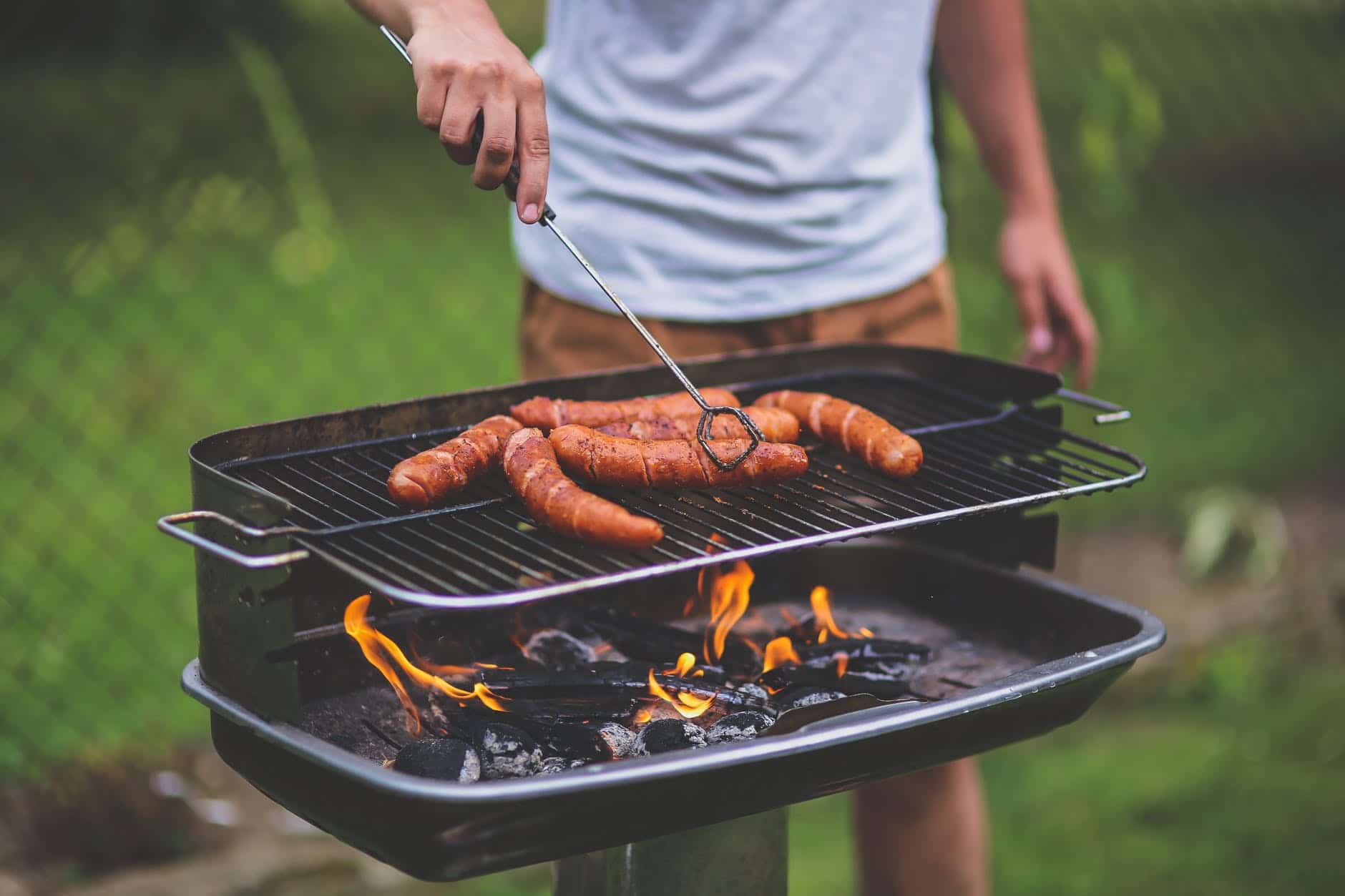 Who wouldn't want to snack on hot, juicy, yummy, freshly grilled sausages while savouring the fresh air and picturesque view of nature? Grilled sausages are one of the go-to family camping meals — they are easy to prepare and eat, and extremely fulfilling to your taste buds and tummy too. All you need is an efficient caravan fridge where you can store your frozen sausages, an outdoor griller, some charcoal, and some barbeque sticks if you prefer to eat your sausage on a stick. This meal will surely satisfy the kids and the kids-at-heart alike.
2. Australian Damper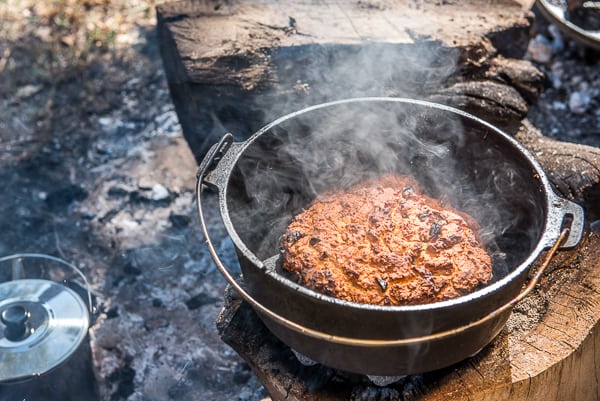 Source: http://intentsoffroad.com
Don't you just love waking up to the smell of freshly baked bread? A warm, camp-baked Australian damper will surely make a great breakfast treat for the whole family. Although you'll need a bit of effort to make this one, the smiles on the faces of your loved ones while eating this meal will certainly be worth it.
What you need:
2 ½ cups self raising flour

¼ teaspoon salt

1 teaspoon sugar

1 to 1 ½ cup milk

4 to 5 tablespoons butter

1 teaspoon cinnamon (optional)

Syrup

Camp oven or tin foil or sticks
How to cook it:
Combine the flour, salt, sugar, and cinnamon.

Using your fingertips, rub in the butter gradually until it looks like fine breadcrumbs.

Stir in the milk slowly until it has the consistency of a dough.

Knead the dough on a floured surface until soft and smooth.

Mold the dough into a round shape, brush with milk, and lightly cut a cross on the top surface.

Cook in a preheated camp oven for around 30 minutes or until it turns golden brown and firm.

Add a generous amount of syrup and serve while hot.
3. Grilled Fish and Corn on the Cob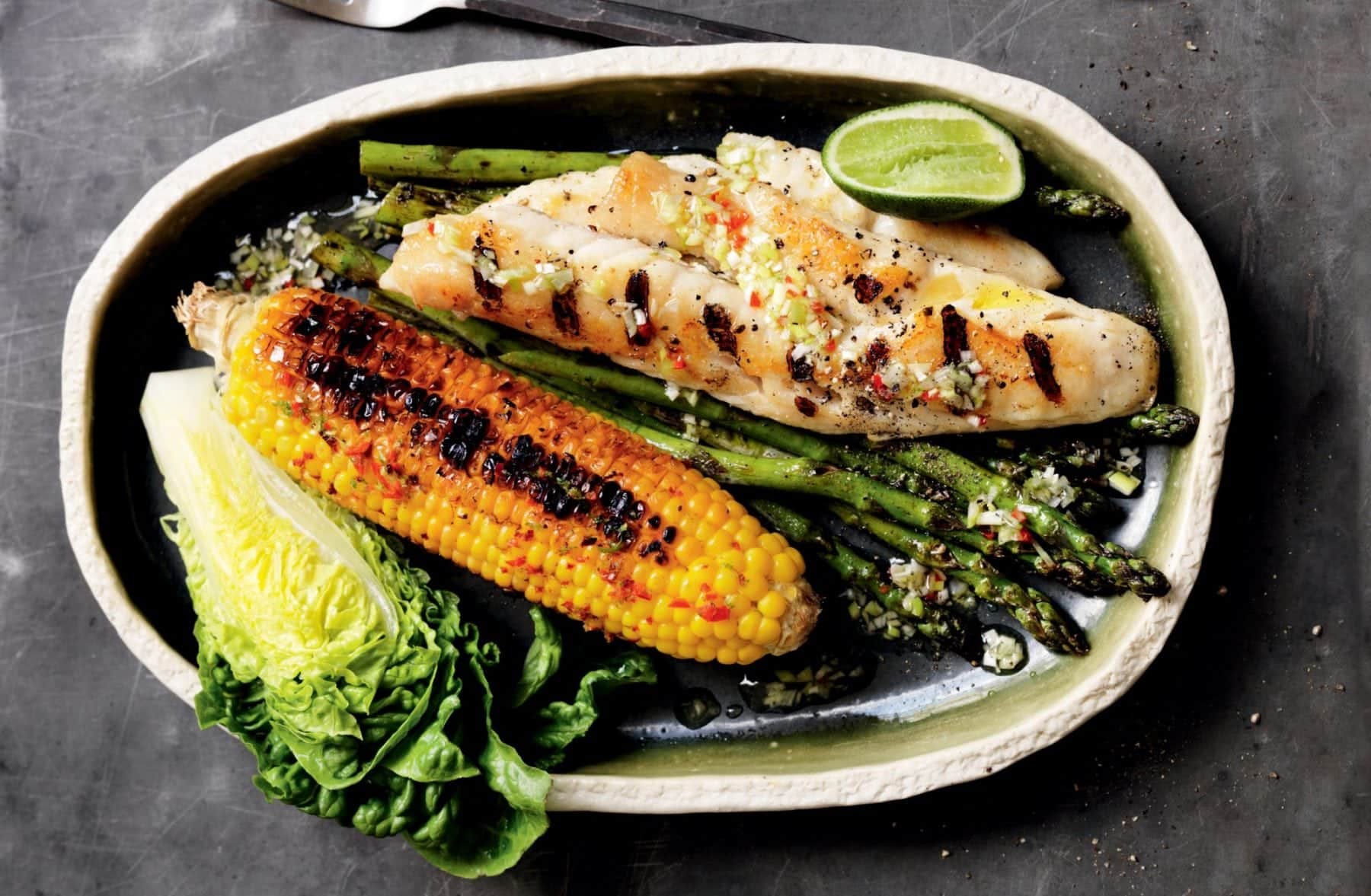 Source: https://www.healthyfood.co.nz
Go fishing with your kids while camping and see what you can catch for lunch or dinner. The fishing part might be challenging, but it will certainly be fun. The next step is quite easy — just clean the fish, sprinkle it with some salt and pepper, and voila! It's ready for grilling! Grilled freshly caught fish is one of the most satisfying meals to enjoy with your family, especially if you did the catching and cooking together. Grill some corns-on-the-cob as well to add variety to your dish.
4. Fried Rice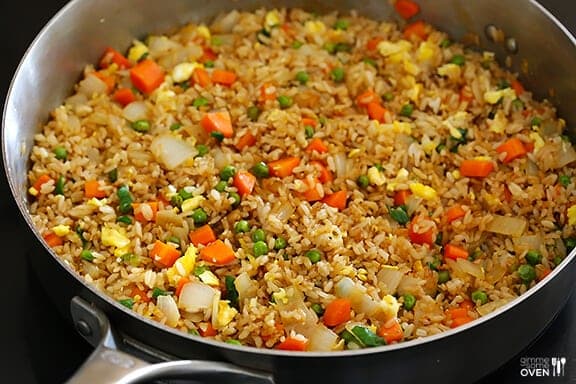 Source: https://www.gimmesomeoven.com
Fried rice is another satisfying family camping meal that is easy to prepare and tasty. You can experiment with what you can include in your fried rice based on the supplies you have. For a complete and balanced diet, it's best to mix in some meat and/or eggs (for protein) and vegetables (for added fiber).
What you need (you can add or change ingredients based on what you have):
Brown or white rice (cooked accordingly)

Salt and pepper

Fresh eggs, lightly beaten

Chicken breast or other frozen cut options (salami, sausage, corned beef, etc.)

Broccoli

Spring onions

Garlic and onions

Cooking oil

Soy sauce
How to cook it:
Preheat cooking oil in a pan using low heat.

Saute garlic and onion until brown.

Add the meat and cook until tender.

Add rice. Pour in just enough amount of soy sauce for your rice. Mix well.

Add the vegetables, and stir through the eggs. Don't overcook the veggies.
5. Nachos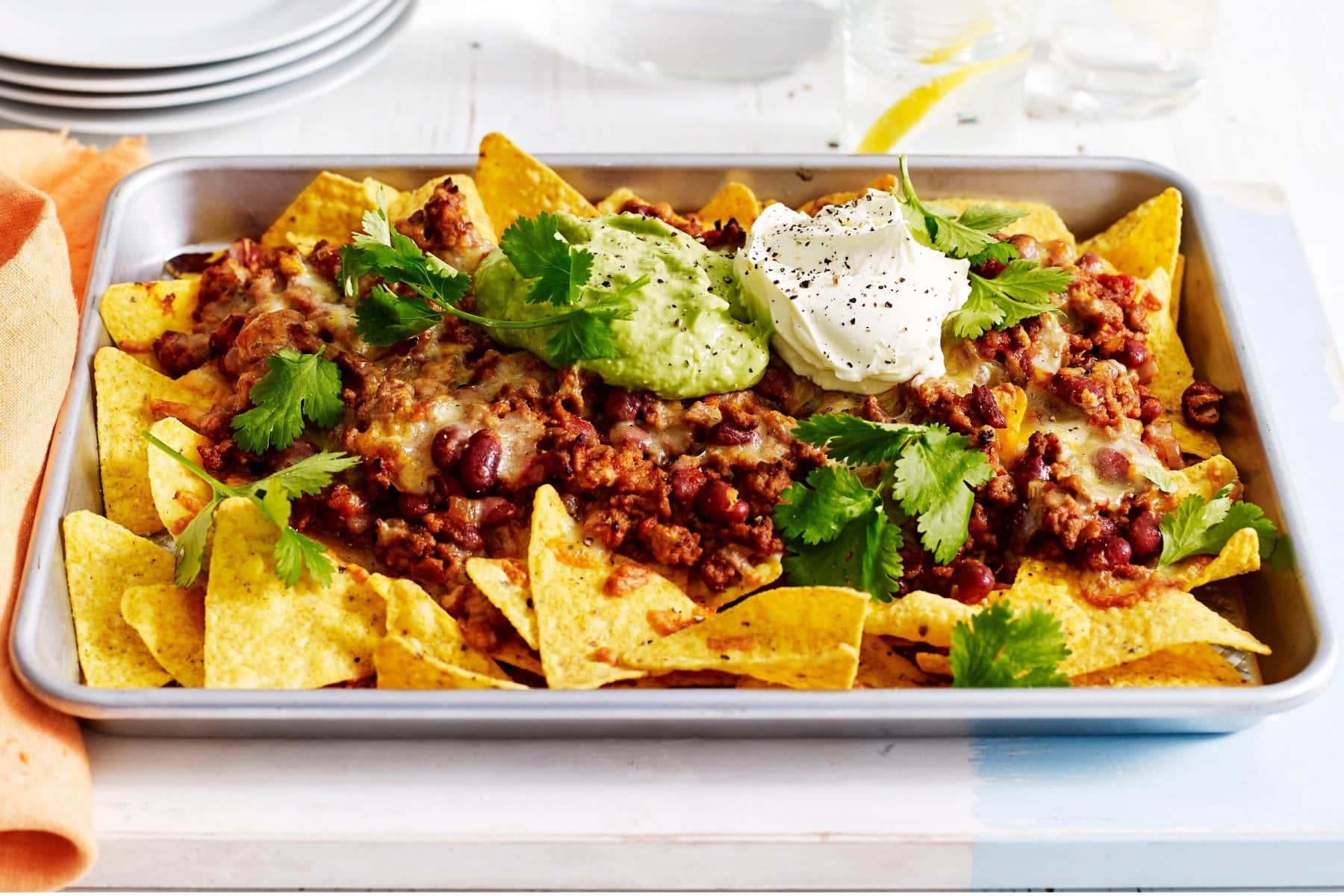 Source: https://www.taste.com.au
Want to eat something delectable but too tired to cook? That's not a problem! Just make sure to bring some nacho corn chips, your favorite nacho dips, ready-to-eat salsa, grated cheddar cheese, and some fresh tomatoes, parsley, and onions. Prepare all the ingredients and arrange gourmet-style on a plate to make it look more appetising.
6. Campfire Potatoes
Source: https://www.splendidtable.org/
A simple yet extremely fulfilling dish, campfire potatoes are great for a family dinner under the stars. This camping meal is easy to prepare — all you'll need are potatoes, salt and pepper, olive oil, some herbs, and tin foil. Cook the potatoes in a saucepan with water until tender. Transfer them into your tin foil, pour enough oil, and season with salt, pepper, and herbs. Crimp the foil edges to seal your packets. Put the potato packets on grill, turning occasionally, until cooked and sizzling. Best served hot.
7. Simple Rice Rolls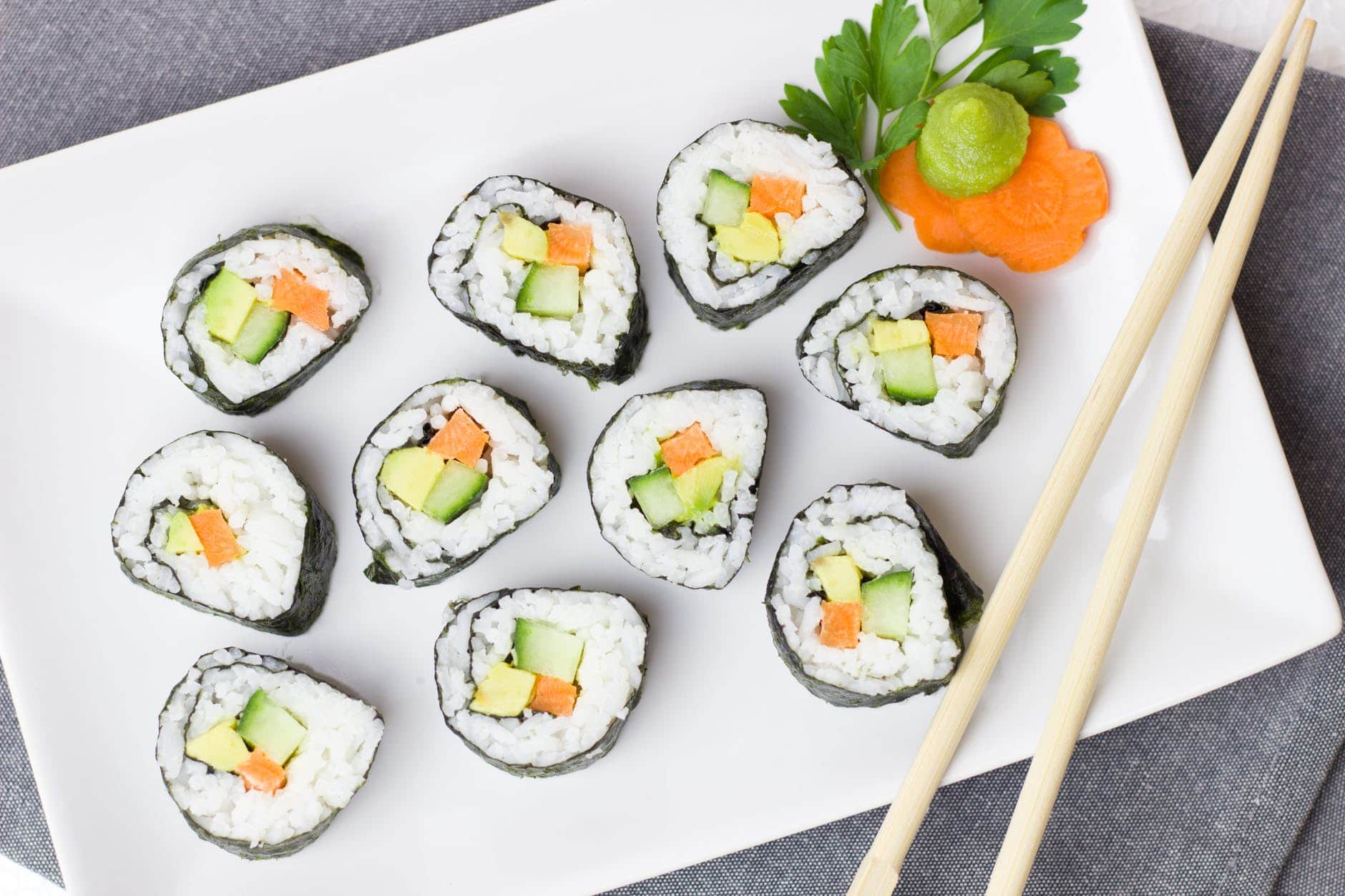 Want to prepare something fancy for your family? Try this simple Japanese rice roll dish!
What you need:
Japanese rice, cooked

Carrots, sliced like sticks

Cucumber. Sliced like sticks

Nori wrapper

Wasabi powder

Lemon

Soy sauce
How to prepare it:
Place the nori wrapper on a clean, flat surface.

Spread the rice to cover the nori wrapper.

Place the carrots and cucumber at the center.

Roll tightly and slice accordingly.

Mix the wasabi powder with water according to package instructions.

Prepare the soy sauce and lemon slices.

Serve and enjoy.
8. Grilled Vegetable Skewer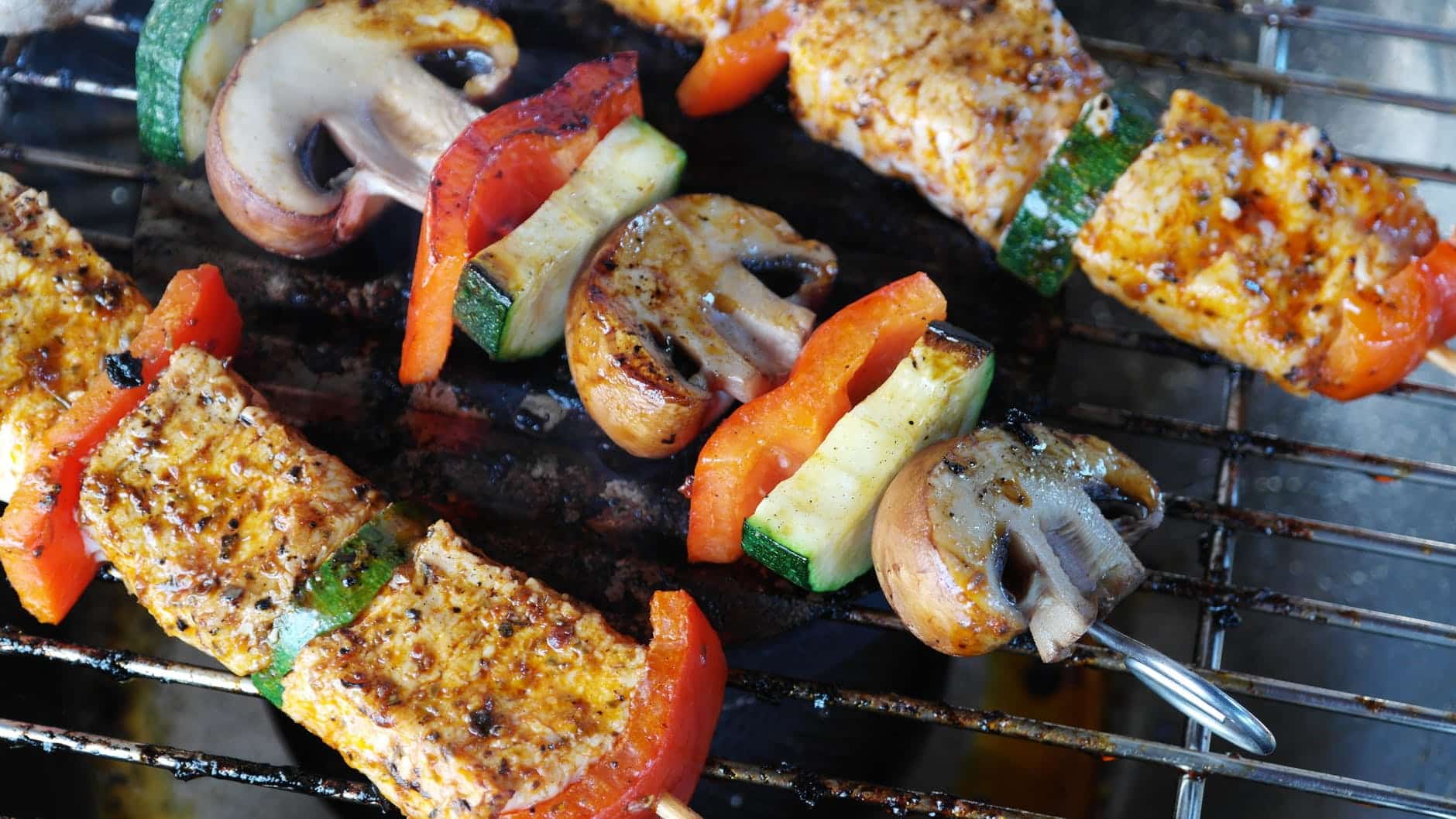 If you want to maintain a healthy diet while camping, this family camping meal is a great option. Grilled vegetable skewer is simple, easy-to-prepare, and will definitely remove any excuse not to eat healthy while on a getaway.
What you need:
Fresh vegetables such as tomatoes, onions, mushrooms, broccoli, cauliflower, potatoes, carrots, bell peppers

Tofu

Pineapples

Olive oil

Salt & pepper

Herbs

Barbeque stick
How to cook it:
Slice your ingredients accordingly.

Make a skewer using barbeque sticks.

Brush some olive oil and season with salt, pepper, and herbs to taste.

Grill and serve while hot.
Preparation is the Key to a Safe & Fun Holiday
Family camping getaways should be filled with fun activities to create wonderful memories with your loved ones. Make sure to do the necessary preparation for everyone to enjoy the experience. The simple and easy family camping meals stated above are just few of the available camping dishes you can make. Fire up your creativity and experiment on a variety of camping menus to satisfy your families appetite during your camping getaway.
Aside from food, your caravan is another important thing to prepare. Make sure it is in great condition and ready to hit the road in time for your next getaway. When was the last time you had your caravan checked by an expert? Call or visit AllBrand Caravan Services now for inquiries and bookings!
You can reach us through this number: (07) 3869 2969,
visit our workshop in 113 Connaught Street Sandgate, QLD, 4017,
or send a message.
[porto_block name="Bottom"]