At AllBrand Caravan Services we recognise how valuable escaping the daily grind is, a trip away means excitement, planning and preparation. However one of the most important things to be informed about in regards to your caravan and travelling is when to change your tyres. Being prepared is key. One of the most frequent questions we receive from our customers is 'Do I need to change my tyres?'
Whilst caravans are very forgiving and are built for the wear and tear of the open road, your tyres are the only part of your caravan that comes into constant contact with the road, therefore they are the part that will need replacing or repairing the most, and more importantly, they ensure your safety throughout your travels.
We know that the planning of your next trip can happen at any time and often questions about your trip come to you in the middle of the night – when many of our best ideas and plans arise. So if you are doing your research and have any queries that can't wait until morning, that's ok, we developed a list to help and guide you in answering some of those questions about your tyres and when to replace them. We also have steps on what to do if you are out on the road and you need to change a tyre. Our simple how to guide will help you if you get stuck and require assistance.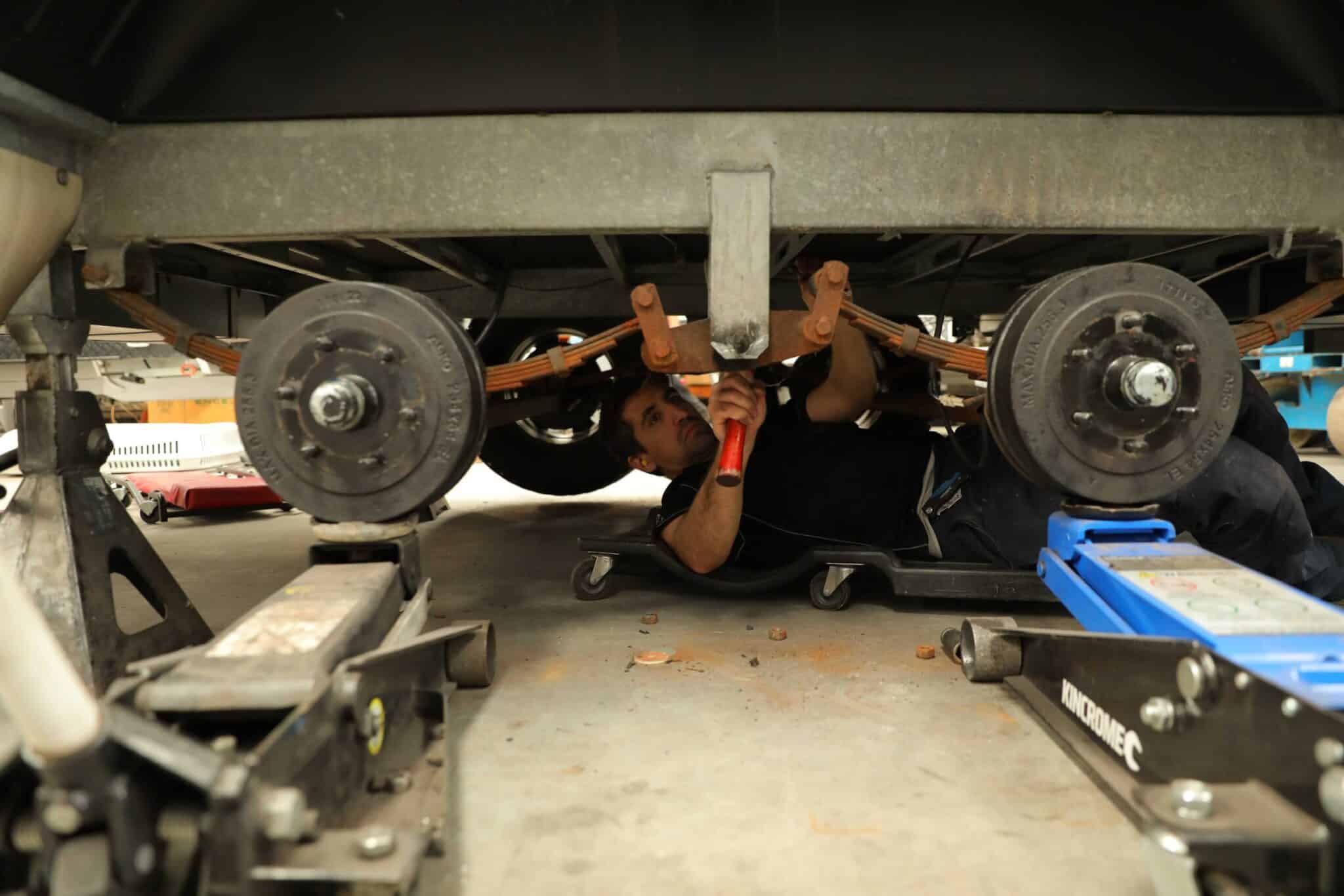 Did you know that a tyres age starts from when it was made, not from when it was fitted?
1.  If you have had your tyres for more than 5 years, guess what, it's time to replace them. If they exceed 7 years they should NEVER be used. If you continue to use tyres that exceed these time frames, you are putting yourself, your caravan and others on the road at risk. Realistically caravans only travel just over 3,000 kms a year, so not massive mileage, but there are other factors that impact the deterioration of tyres such as:
    exposure to sunlight and the atmosphere affecting the longevity of caravan tyres.

    fatigue from the repetitive small impacts that occur in everyday use. Caravan tyres are more sensitive due to the weight they hold.

    the amount of storage time, if a caravan is stored for long periods of time, certain parts of the tyre receive undue strain due to not moving.

    if your tyres have undergone some damage, due to accidents it is imperative they are replaced immediately. There may be underlying issues not visible to the eye.
2. Keeping an eye on the tread depth is vital in ensuring your safety when travelling. If it is past the 1.6mm it is time to replace. Did you know that new tyres come with about 8mm tread?  As you drive, your tyres will wear and tear. When your tyre tread is 3mm it can take up to 2 full car lengths to stop. More alarmingly, when you have just 1.6mm tread it can take you over 3 car lengths to come to a complete stop, stretching over 18m. This can make a huge difference to the handling and your safety on the road.
3. Do your tyres need a high inflation pressure (50psi or more) This is an early sign that you need to regularly check for deterioration. Our service centre can also help with this.
4. One of the most important signs of the need for a tyre change is your own common sense and knowledge. If you're driving and something doesn't seem right, we advise that you bring your caravan in to get checked over by our team. It is better to address a possible issue before it becomes a problem for you.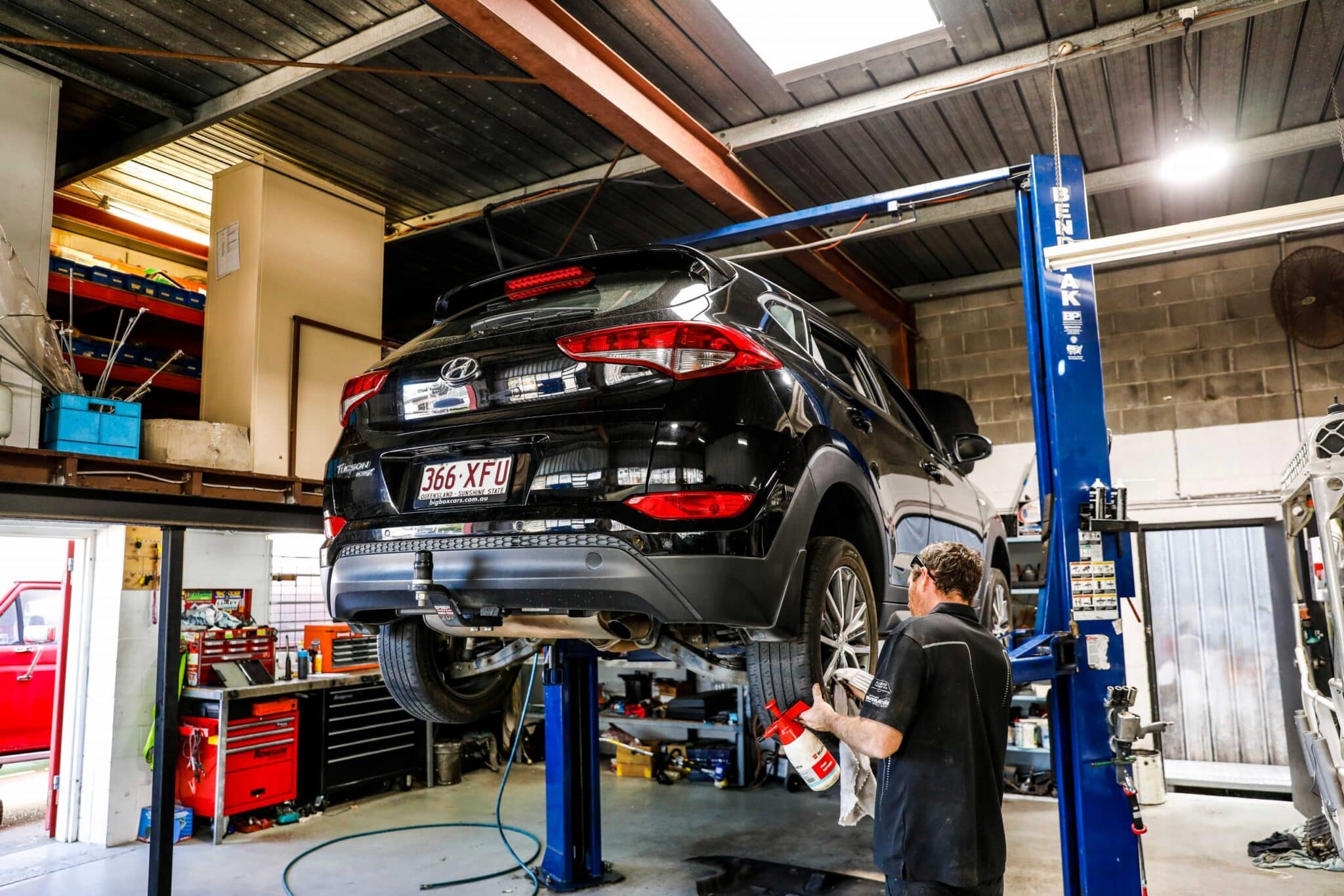 My tyres need changing……now what?
Depending on where you are when you realise your tyre needs changing, you may need to carefully steer your caravan to a safe place. Remembering that your safety is number one.  
  Ensure all the tools you may need are readily available, these will include;
    Wheel chocks

    Spare tyre

    Wheel braces
  Carefully remove the wheel cover

  Use the wheel braces to loosen the nuts

  Find the jacking point of your rig (you may need to refer to your caravan manual as this can vary from caravan to caravan) and steady it using a base plate if you are on loose or muddy ground. Once the tyre rises above the ground, unscrew the nuts completely.

  Jack up the caravan ensuring you have enough ground clearance to take the existing tyre off the caravan. Please be careful and avoid being under the caravan while it is in the lifted up position. It is a good idea to have someone with you to assist with this process, if possible.

 Take off the tyre you are replacing

 Put the Spare on, once the spare tyre is in place, screw back the nuts that you removed earlier.

 Keeping the jack steady, lower the caravan carefully.

 Using your wheel brace, tighten all the nuts (check your caravans manual to check you are tightening them enough, you may need to use your wheel torque). Remove the wheel chocks and you're good to roll again!
We encourage you, if you ever have ANY questions to give us a call here at AllBrand Caravan Services and one of our friendly experts would be only too happy to help. It is always better to be safe than sorry – after all, that is what our team is here for – to rest your mind at ease. You can contact one of our specialists during business hours on (07) 3869 2969
We also encourage you to check out our other blogs, which are written for you, by our specialist team. We cover all things relating to your caravan. We update these regularly, complete with hot tips and advice, we are constantly striving for perfection and looking for ways we can help you and give you handy hints – we know our stuff!
[porto_block name="Bottom"]